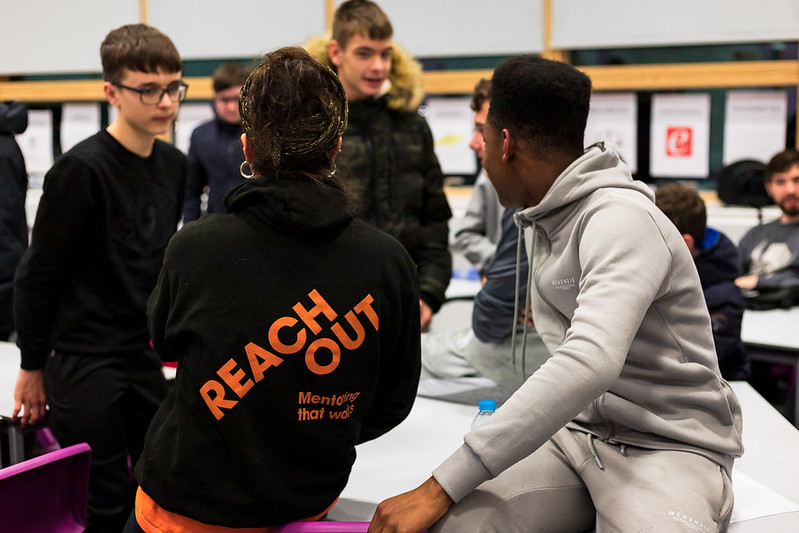 The Jack Petchey Foundation has supported ReachOut for 11 years! Over this time we have funded ReachOut to support over 2,000 young people in London. The ongoing support from the Foundation has helped ReachOut to grow and reach even more young people.
ReachOut is mentoring and social mobility charity improving the outcomes of young people through character-based mentoring.
They work with young people aged 9-25 across three key programmes; ReachOut club (9-11) ReachOut Academy (11-16) and ReachOut+ (16-25). The Jack Petchey Foundation currently support the ReachOut Academy and ReachOut+ programmes.
All of our programmes are underpinned by our four key character strengths; Good Judgement, Staying Power, Fairness and Self-control.
We partner with schools across London to deliver our programmes. Young people are referred to the projects by their teachers to make sure we reach the young people who will benefit most from our support.
Each project group is comprised of up to 16 young people and 16 volunteer mentors and facilitated by a Project Leader. The work is centred on four key character strengths; Good Judgement, Staying Power, Fairness and Self-Control. Young people are taught to identify these strengths in themselves and others and develop them with their mentors and peers.
Our programmes combine 1-2-1 mentoring with a group setting, Mentees benefit from building their confidence and social skills with their peers in their project group and have the space to discuss their personal issues and goals with their individual mentor.
Our two-hour, weekly projects are divided in to one hour of classroom-based sessions and one hour of sport or creative activities. This keeps young people engaged and gives them the opportunity to apply the skills developed in the classroom to a new setting.
'If I hadn't gone to a ReachOut workshop at Macquarie when I was 15 I probably wouldn't want to be a banker now. No-one else has ever spoken to me about that stuff so I do wonder where I'd be now if it wasn't for ReachOut'
Shervann, former ReachOut service user and now works at CBRE.
Our projects aim to raise young people's awareness of different careers. We do this through Workplace Experience Visits. Each project group has the opportunity to visit the workplace of our partner companies and learn what happens in their industry. These workshops leave a lasting impact.
To see just how impactful our programmes are, take a look at our latest video: