"You were already achievers, and now you're young leaders" : Achievers Network 8 Graduation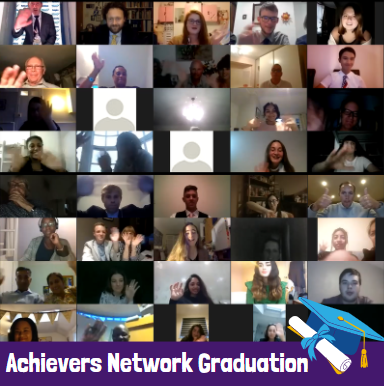 On Friday night we held our annual Achievers Network Graduation with the usual laughs, speeches and reflections on the programme, with one twist – this year it was held virtually.
Our eighth cohort of the Achievers Network programme have completed a lot of their activities in the lockdown – but that didn't stop them forming friendships, learning new skills, volunteering, working with their mentors and discovering new opportunities to achieve.
"Imagine if you were given the opportunity to learn more about yourself. Would you take it? Thankfully I did, and it was one of the best decisions I've ever made." Afyia Ballard Debois, age 17 from Kensington and Chelsea.
The Graduation ceremony saw 14 members of the Achievers Network share their experience and what they feel they have gained from the programme:
"It was a great place to bond with people I wouldn't have otherwise met." Said Jack Lawrence, age 15 from Twickenham. "One of the best parts of Achievers Network was having the access to a mentor. It was a great place to get advice, volunteering ideas and just have a chat."
"Every single step in this programme helped me to reach my goals. This experience showed me that working in a group and incorporating everyone's ideas together gets you a better result than if you had just worked along. Team work makes the dream work!" said Sudipta Roy, age 15 from Sutton.
The night also included speeches from programme-lead Kevin, guest speaker Matt Rantell, a couple of trips down memory lane through photos of all the activities this year and a review of the difference the programme has made.
It was revealed that across the year, Achievers Network 8 had volunteered a total of 2566 hours despite the lockdown, making the total of Achievers Network volunteer hours 27,866 across the eight years of the programme, the equivalent number of hours of 13 and a half people working full time for a year.
But as well as contributing a lot, the members discussed what they had taken away from the experience.
"The Jack Petchey Foundation has inspired me to walk my own path." Said Evan Grandidge de Paz, age 15 from Lambeth.
"The Achievers Network makes you want to be the best version of yourself." Kitty Green, age 15 from Kingston-Upon-Thames.
Guest speaker and board member Matt Rantell, Sir Jack's grandson, said: "Sir Jack wants to pass on his congratulations to you all. As we've heard from a lot of you tonight, the Achievers Network gets you out of your comfort zone and hopefully gives you the confidence and motivation to go out into the world and make a positive difference. We've got no doubt that you will go on to do exactly that."
Towards the end of the ceremony we said thank you to this year's young leaders and welcomed in the five members of Achievers Network 8 who will go on to be young leaders of the next cohort of the Achievers Network programme: Quinter, Evan, Kitty, Maitri and Georgia.
Congratulations to all graduates of the Achievers Network programme this year:
Adam Markey
Aleksandra Tonkiss
Ariana McKone
Aymen Mahammednor
Eleanor Hind
Evan Grandidge de Paz
Fizza Zaidi
Gabriele Buendia
Georgia Joanna Hunt
Happiness Nkechiyere Enyioma
Harry Thomas
India Lowrie
Jack Lawrence
Josephine Ayodele
Katie Ginger
Kitty Green
Lily Potter
Maitri Nori
Peter Clarke
Phillipe Andreewitch
Princilla Agyemang
Quinter Omondi
Sienna Daniel
Suriyaa Markandu Gnanapandithan
Wendy Witter
Yasmin Arnauut
Here's to welcoming cohort 9 for our 2020/21 programme!