Speech about LGBT rights wins Jack Petchey's "Speak Out" Challenge! – the largest youth speaking competition in the world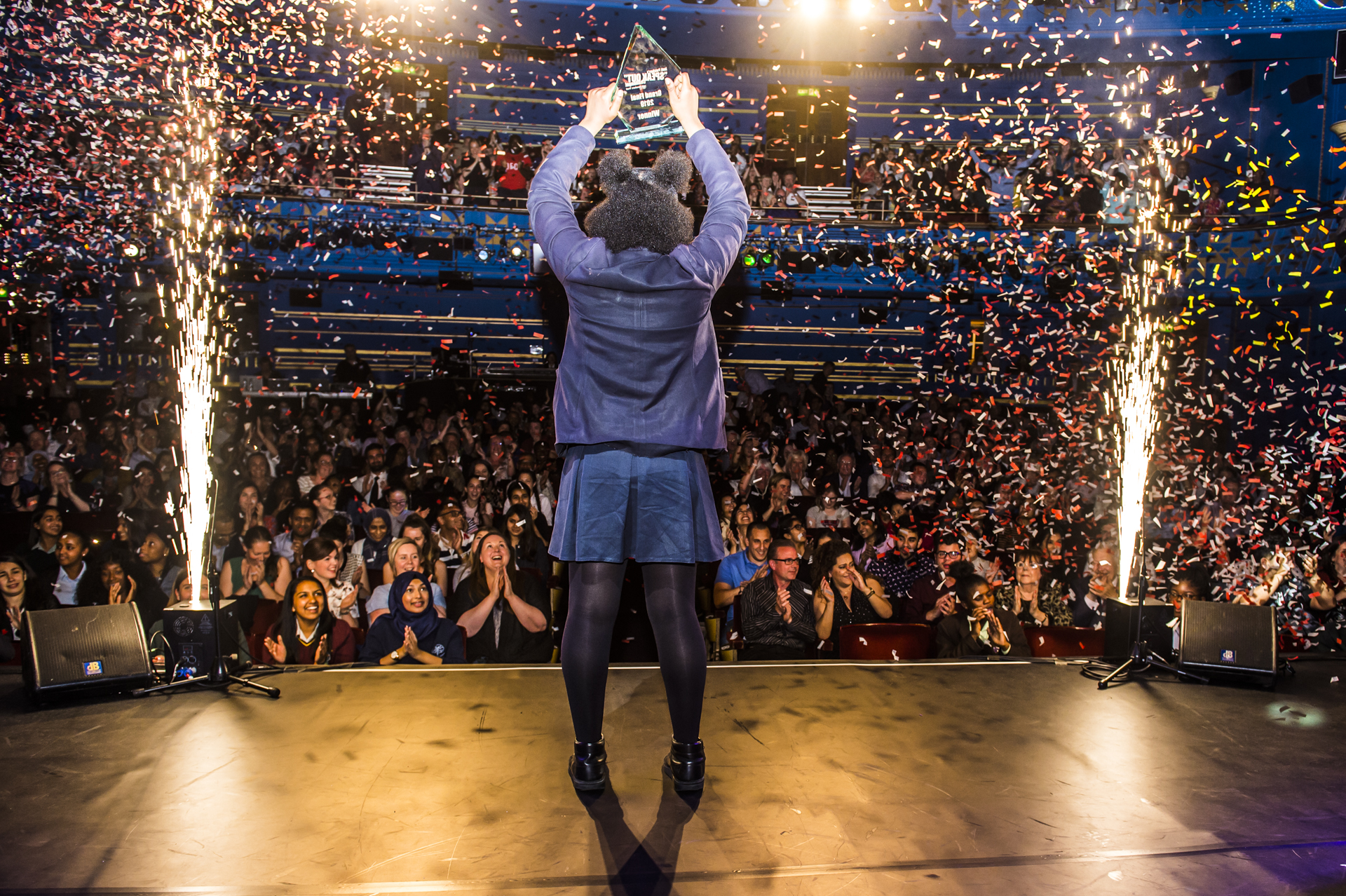 Fifteen-year-old Princilla Agyemang from St Gregory's Catholic Science College wowed a packed audience at the Cambridge Theatre on Monday 1st July and was announced the winner of this year's Jack Petchey's "Speak Out" Challenge – the largest youth speaking competition in the world with over 20,000 young people taking part this year alone.
This year's Grand Final Judging Panel comprised a mix of award-winning journalists, high-profile business people and celebrities, all known for using their voice to make a change: Natasha Devon MBE, Mental Health, Body Image and LBGTQ Campaigner; David Wilding, Director of Planning, Twitter UK; Don Ward, Founder, Comedy Store; Scarlette Douglas, TV Presenter; Elizabeth Bananuka, PR Pro and Diversity Champion; Femi Oluwole, Co-Founder, Our Future, Our Choice; Peter Dickson, Voiceover Man; Kate Richardson-Walsh, Olympic Medal Winning Hockey Captain and Erin Stoner, 2018 "Speak Out" Challenge! Grand Final Winner.  
Just days after the 50th anniversary of the Stonewall riots Princilla spoke about a friend coming out and the reaction to it. Speaking directly to her Grand Final audience of over 1,000 , Princilla said "Every single person in this room is part of a minority it just depends how you slice the pie." Pointing her finger to the middle of the room she continued "no one deserves to be discriminated against for their race, religion, sex, gender identity or sexual orientation." Her considered and pointed speech was fact-checked and rich with emotive opportunities.
She closed her speech with a compelling appeal; "Tell your stories because stories save lives." Her final line was met with rapturous applause and roars of support from an attentive crowd, "Gay/straight, black/white, same struggle/same fight."
You can watch Princilla's speech in full here: https://youtu.be/D4bi3h070mc
Natasha Devon MBE said "Tonight I watched 15 fifteen year olds speak about a topic close to their heart better and with more sense and conviction than 99% of our current politicians and, not for the first time, I thought "everything will be OK, young people are awesome"".
Elizabeth Bananuka, PR Pro and Diversity Champion added "I laughed, I cried, I learnt – thank you for your incredible, inspiring, brilliant young people".
Princilla will receive £2,000 for herself and £3,000 for her school, St Gregory's Catholic Science College.  When asked why it was important to speak out on her chosen subject she said  "So many people are hurt and ostracised, it's so important that their issues are spoken about, addressed and changed.  I hope that people will realise we are not as different as we seem; we share the same struggle and fight."
Second place was awarded to Georgia Hunt, Bishop Ramsey CE School in Hillingdon for her thought provoking speech on mental health. Third place went to Rumbidzai Kawome from New Rickstones Academy; she spoke about the importance of having self-worth. Fourth place was awarded to Jesse Osae from Harris Academy Merton who shared his thoughts on appearances.
Jack Petchey's "Speak Out" Challenge! is designed and delivered by Speakers Trust and is funded and supported by the Jack Petchey Foundation to encourage 14 and 15 year-olds to develop public speaking and communication skills as well as building self-esteem and confidence. Now in its 13th year, over 20,000 young people in 500 state schools across 37 regions throughout London and Essex took part in this year's Challenge.
During the academic year, each school has received one free one-day workshop in public speaking and communication skills. The students' confidence in speaking to an audience, without notes, is measured at the beginning and at the end of the day.  During 2018/19, 73% of students have increased their ability to communicate publicly.
Trudy Kilcullen MBE, CEO of the Jack Petchey Foundation said: "It was wonderful to hear so many open, confident and articulate young people speak in such a hope filled manner  – I know that our future is safe in their hands!"
Commenting on the evening's speakers Russell Findlay, Chief Executive of Speakers Trust said: "It has been so inspiring to hear from all 15 speakers and to know that behind each one stand over a thousand more whose confidence is greater, whose skills have been developed and who now feel empowered to share their perspective on the world."