My Adventure Volunteering in Fiji – Laura Jephcott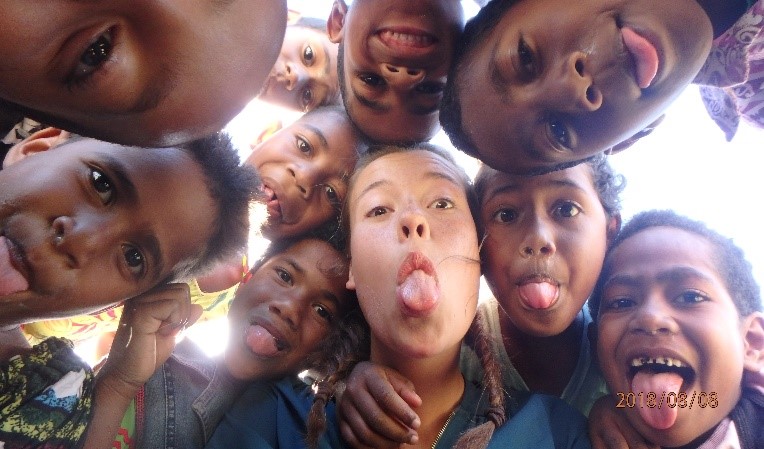 Volunteering has always been a passion of mine and it was whilst researching a variation of opportunities in different countries that I came across Think Pacific (TP) – a charity that only volunteers in Fiji. This makes their approach specific and concentrated, meaning they can reach maximum impact because they are solely focused on assisting one area.
I've volunteered with the Jack Petchey Foundation at various events since 2014 and I was lucky enough to be a recipient of an Individual Grant for Volunteering (IGFV) from the Foundation, to help complete my funds to finalise my two month journey to Fiji. I'm very grateful to the Foundation for their support of my trip as it meant I got to experience the summer of a lifetime that most people can only dream of. It's definitely one that I'll never forget.
Being able to spend two months exploring, learning and teaching in Fiji has opened my eyes to a paradise I can't describe but am so desperate to share and return to.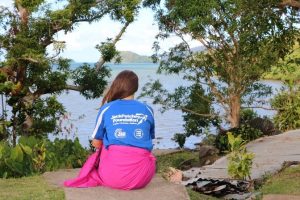 Heading into the village I was apprehensive, but the TP team and briefing process gave us the basics we needed to feel a little more confident about stepping foot into our first Fijian community and homes. As a team of 27 volunteers we were partnered up and each shared a home and family for the duration of our endeavour. My family were truly delightful, and we were immediately greeted by warm, welcoming arms and hearts! We may have been guests in their home, and only for a short time but no matter the length of stay, they did their upmost to make us feel like their own family. I've never felt so loved and comfortable by people who were in fact the kindest of strangers. Our little brothers were cheeky, yet pure and untouched by society, with their parents and grandparents being traditional, educated individuals who taught us so much about the Fijian culture and way of life. They made it very hard for me to leave as I truly loved them as family by the end!
Life in a Fijian village was difficult at first, but we soon got used to the vibrant aspects of life there, including the clothing, food, culture and language. I found the easiest way to learn and to get the most from my experience was to embrace every single aspect and endure every element in its naturalist form. Knowing I was only going to have the chance once, and only for two months gave me a new motivation and drive to do my best at being 'Fijian'. Whether it be wearing sulus (Fijian traditional dress), eating from a traditional cloth on the floor with your family, taking cold showers or treating Sundays as modest rest days, saying 'Masu' before every meal, finding out you're related to every person in the village, whether by name, blood or love, or being enveloped by their friendly, natural and open way to living, we truly learnt to appreciate, accept and be grateful for everything offered to us. They may have had so little, yet they made the best of every moment and gift that the Earth provided them with, which made me love and enjoy their way of life even more! The simplicity of life within the islands in truly enlightening and amazed me every day.
The main goal of our project was to volunteer within the local school(s) and entering as a teacher was an incredibly daunting yet amazing experience. We were teaching elements of Maths, English and to the children's delights, Sports. We coached a variety of different sports each week, including rugby, netball, hockey, football, cricket, rounders, Zumba, athletics and volleyball. Some of which the children and teachers had never even heard of but ended up enjoying the most! It was this stage of project, the in-school aspects, that helped me define my future career plan and define what I really wanted to achieve next.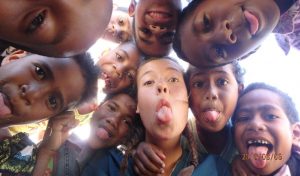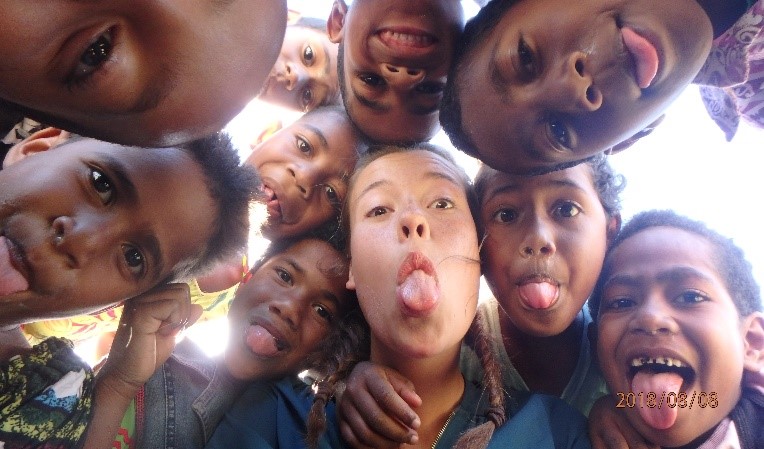 Within the classrooms we assisted the teacher by developing a one-to-one, small group or whole class routine whereby we established the level of ability across the class and then worked with those who needed the additional support, to aid them in understanding the aspects of subjects they struggled with. Due to the shortage of teachers and resources in Fiji, most schools operated with two classes having only one teacher. This means a teacher would have two boards and effectively have to juggle their time to support and educate two classes at any one time. This made it incredibly hard for them to offer guidance and additional teaching to those who may be naturally slower. Our aim was to try and improve the overall standard of information retention and knowledge so that the children were on roughly the same level, making it easier for the teacher to continue with maximum impact for their learning. We took many resources with us and replenished the school's stocks of basic requirements such as paper, pencils and rulers amongst other stationary and tools.
The impact you make to the lives of the children – and village as a whole – is extraordinary and an achievement I will always cherish. The children were so desperate to learn and imitated everything we did, so any new skill, trick or lesson they were amused by they tried to master and were overjoyed when they did.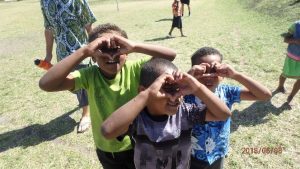 The gorgeous smiles and bright little eyes of the children in my class one group (six-year olds) gazed up at me often with laughter or awe and amazement. The best moments on the project were by far the eureka moments when a child achieved a concept that they didn't previously understand. I had a child in my class who didn't know the number 13, within the sequence of one to twenty and it took several weeks for him to learn it, but he came to me one day and listed off the numbers grinning with every number he said. He was so proud of himself and I was too! Another child read a story without stuttering for the first time after lots of work on the pronunciation of sounds and ran around the school reading to all the teachers – he was so happy with his achievement and he had worked so hard! I was so pleased with how all the children I worked with listened and respected me – it showed in their work too. They began to believe in themselves, and it filled me with confidence too, making my drive to help them achieve new targets even stronger.
Not only did the children learn from us on the project, but we learnt from them and the same applies to the teachers and parents as well as other villagers. It's a two-way street, a partnership that helped us grow as individuals and as part of a team. They learnt from how we approached and treated the children, with the most positive results coming from consistency, patience, repetition, imagination and most importantly fun! Encouraging the children to participate fully in a wider range of activities improved their creativity, independence, confidence and developed their personalities. We saw a significant improvement in behaviour, attitude and grades with children making a broader attempt to succeed and contribute more. It truly was a fantastic realisation when we saw all of our efforts paying off. We become proud of the children and proud of ourselves and that self-reassurance gave me the motivation required to keep challenging myself and the children to reach new heights and our potential.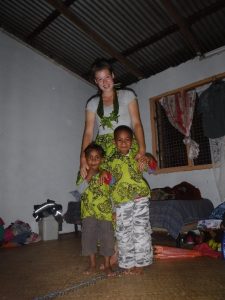 I had a truly amazing time on the project – I tried new things and took myself out of my comfort zone. It didn't matter if you'd never taught before or if teaching is your passion, a Think Pacific project is an opportunity for everyone to make a difference. I thoroughly enjoyed every minute of the experience despite the inevitable difficulties of illness, missing home and self-doubt, but the team did everything they could to make us feel comfortable and safe. Not every element of the project was easy and in no way was it a simple experience – the flight alone was a challenge, but being able to devote my time to better the lives of others has been worth it, and I haven't looked back since. I miss my family and village immensely and have already scheduled my return.
Isa Fiji, au domoni iko.
Vinaka vakalevu.
Want to find out about our Individual Grant for Volunteering Programme? Click here.