Chloe on overcoming adversity!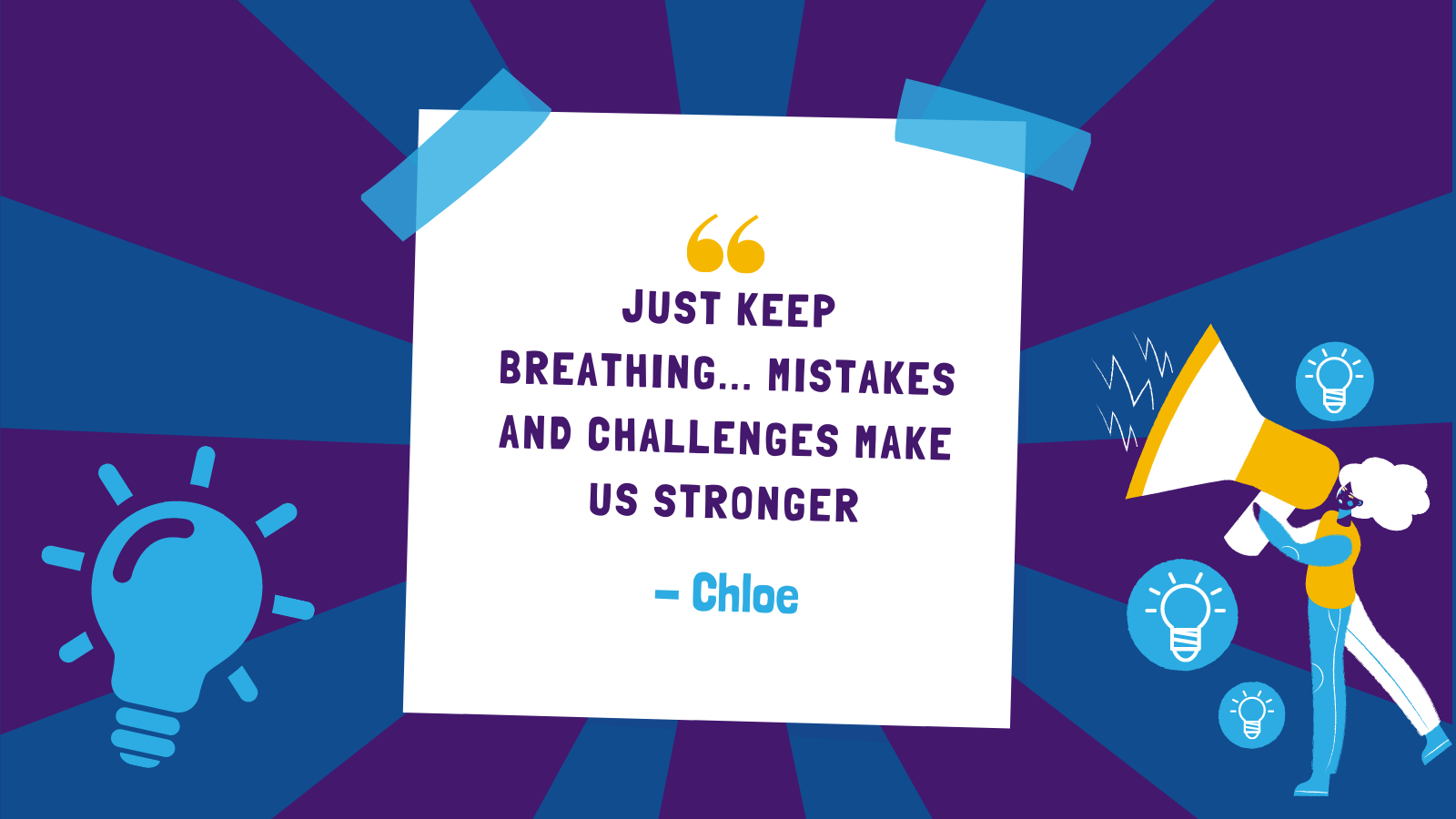 We recognise so many young people for their incredible achievements – from sporting achievements to going the extra mile to help others around to being a positive member of the community. Chloe was awarded a Jack Petchey Achievement Award for her resilience, bravery and positive attitude – we asked her to share her experience and top tips for staying positive through tough times.
Hi, my names Chloe and I am a year 11 student and the winner of a Jack Petchey Achievement Award.
I won my Jack Petchey award for positively overcoming a challenging situation and for my personal achievements. In the 'first lockdown' I was diagnosed with a rare medical condition called Costochondral syndrome and was admitted to hospital after having difficulty breathing. This meant that for a long-time doing what I love was not possible and attending actual school was not an option. I had to persuade my family and doctors to allow me to go back to school to continue my journey through dance, carry on my studies and get the support I needed to succeed at GCSE level. This was a huge challenge as Coronavirus was all over my area and my safety was a huge priority. After having many months away from school, I jumped straight back into learning with both feet and worked long and hard to make sure I had done well in my GCSE mock exams and my actual GCSE exams and the challenging work and determination paid off and I received the outstanding Jack Petchey award for all my achievements and efforts.
Costochondral Syndrome is a rare syndrome where the cartilage that connects the ribs to the chest bone gets inflamed and swollen, the pain can be excruciating and can mimic the feeling of a heart attack. It can affect my day-to-day life, as I often get aching pains, breathlessness, swelling, cramps, and my heart rate speeds up regularly. Costochondritis can improve on its own after a few weeks for some people, however it can last for several months or more for others. It can affect absolutely anything and everything that I do, and it always comes at random times which makes it hard to control.
I was rushed into hospital in the June of 2020 late at night because I could not breathe properly, and I had severe pain coming from my chest. This scared me as I thought I might have had covid-19, I feared for my life and the future. I was given an ECG, then was put on a drip throughout the night and had to sleep with a heart monitor. The next morning, I was diagnosed with the syndrome and told that I could not perform or do any sports activities for a long time as the strain can cause the inflammation to flare up. This broke my heart instantly; I was no longer allowed to continue dancing or do any sports, and this impacted my life as I had no intentions of doing anything else.
Dancing has always been an escape for me, and I want to continue a career in dance however, I feared it was never going to become a reality. I had to persuade my doctors and my parents to let me continue GCSE dance safely and keep myself healthy by not pushing myself too hard or straining my body. And by taking regular breaks, working on my physical therapy, and continuously portraying that I was committed to my studies, I was able to return to an adapted life of dancing and school safely. Costochondral syndrome has set me back a lot and there will always be things I cannot do; as it can be very painful but after a year from my diagnosis, I am learning to deal with the things I can no longer do, and I continue to visit the hospital regularly to ensure I am safe and well.
Dance means absolutely everything to me; I have been dancing since I was young and have always used it as an escape from my worries and anxiety. When I perform everything is forgotten, all my worries slip away, and I can breathe and relax. And dance is very reassuring for me, although you can free style and make the moves up as you go along, there is always an aspect of certainty and majority of the movements are fixed but they can be adapted and changed to make you feel comfortable. Which helps as it is a flexible activity that can suit any preferences. I suffer from anxiety every day but when I am performing or on-stage everything changes, and I can feel confident.
I was in the middle of a dance lesson when I was given my award and I had just finished a section of dance when my mentor walked into my classroom with a Jack Petchey certificate in her hand. Excitement and happiness filled my body, and I was surprised that I had achieved such an amazing award. I did not realise that my efforts and the work that I had put in had been recognised and when my pastoral team told me that I had been nominated, I was shocked and so pleased that all my hard work paid off not only in my exams but also in dance and general life. I have spent the past 5 years working towards being recognised for various things, through dance and other lessons and extra-curricular activities and to finally be recognised as an outstanding achiever this far down the line made me believe that I can do whatever I want and that I have the support and guidance I need from my amazing family and friends. And it also boosted my confidence and reassured me that I was doing the right things and making the right decisions throughout my challenging situation.
Recognising young people's achievements is so important as it helps motivate and encourage young people to do well and in return they are being noticed and acknowledge for all their hard work. Being a young person in today's era, can be hard as there is a lot of stereotypes and expectations of young people and as a collective, we are trying to prove that we can be well behaved and that we can do our best and come out on top when we are having a tough time. And by being awarded prestigious things like The Jack Petchey award, shows young people that they are being acknowledged and that all their hard work and efforts behind the scenes are being noticed and rewarded. It is important to make people feel happy and let them know that they are doing well and making a change in their life that is positive. Young people do not need praise just to make them do well and succeed, but the kind words of someone muttering well done can be more than enough to make someone's day and show them that they are being acknowledged. It also boosts confidence and motivates us to do our best to be positively rewarded for everything we have done whether it be big or small.
My Top tips for others going through challenging times…
Number 1 is to just do whatever makes you happy and follow your heart, everyone faces challenging times, and you are never the only person facing that type of situation, and there will always be someone or something to support you and guide you through, whether that is a friend, a family member or even an activity or project that you love and enjoy. There is always a way to make yourself happy and to relieve stress and anxiety.
Number 2 is just keep breathing, there will always be situations you cannot change and that is not your fault. You cannot go through life and be petrified of everything just encase it ends badly. Mistakes and challenging times make us stronger, and they show us where we went wrong and how we can improve. By noticing where you went wrong or how the situation came about it can help you to realise that you need to take a step back and just breathe for a minuet and when you are ready to start again, take it easy and just take everyday step by step and eventually everything will get better even if it takes longer than expected.
And my final tip is, face every challenge with confidence and do not worry about what people say (however it is easier said than done sometimes). By facing challenges and knowing what you want the outcome to be, you can easily start to overcome your situation and remain confident. Confidence is key during tough times; if you remain confident then you remain in control and your worries will not get you down or make you feel like you have been held back. And ignore people who are trying to get you down. We all make mistakes, but that is not a reason to give up. Always try your best and work on yourself before you work on anything else.