Boswells Academy Trust raise the bar at National Mock Bar Trial Competition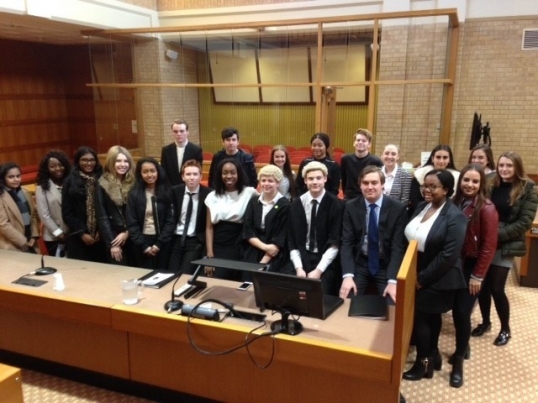 The Boswells Academy Trust, in Chelmsford used a £160 Educational Visit grant to fund the transportation of 22 students to the regional heat of the National Mock Bar Trial Competition. The competition comprises of students taking on the roles of lawyers, witnesses, magistrates and court staff as they prosecute or defend specially written criminal cases. Teams compete against each other in a real Magistrates' courts in front of real magistrates.
The students gained a real insight into how the English Legal System works, which will also be an invaluable addition to their CVs, particularly those who want to pursue a career in the law. The students prepared for the regional heat weeks in advance and they had to meet tight deadlines in terms of preparing speeches and research. They also improved their communication skills and gained more experience working together as a team.
Gregory said, "I benefited from being a court clerk in the Mock Bar Trial as it helped me to learn more about how a case runs. It has also helped to build my confidence and my speaking skills."
Nidhi Kujir commented, "The Mock Bar Trial was an eye-opener to how real life cases may have been fought. It was a good experience taking on the role of being a juror as it really helped me understand the field of work a juror may be involved in. I also gained a much better understanding of how court proceedings are performed and the different roles in court."