Jack Petchey Achievement Award winner starts her own charity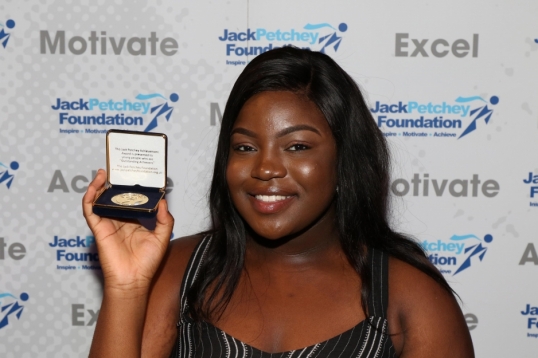 Tosin Ilembola, aged 18, was nominated by her peers and teachers at Mill Hill County High School in Barnet for a Jack Petchey Achievement Award, to recognise the outstanding work she does within her community. Tosin decided to spend her £250 Jack Petchey Achievement Award grant on new resources for the English and History departments.
In 2015, she was elected to represent Barnet as a Member of the Youth Parliament, becoming the first ever student from Mill Hill County to win the elections. Since becoming a young MP she has worked tirelessly to help young people from disadvantaged backgrounds.
As part of this mission, she has spoken on BBC News about mental health, and has set up her own charity to help young people from disadvantaged backgrounds. 'Gain and Glo', is an organisation designed to give more sporting opportunities to young people from less privileged backgrounds. The through the organisation, she started a programme called "Pick up a Ball, not a Blade", which is a combination of basketball training and motivational speaking, created with the aim to tackle youth violence and knife. Congratulations on all of your achievements Tosin, and keep striving to make a difference!