Reading Garden Built in Teacher's Memory using Leader Award Grant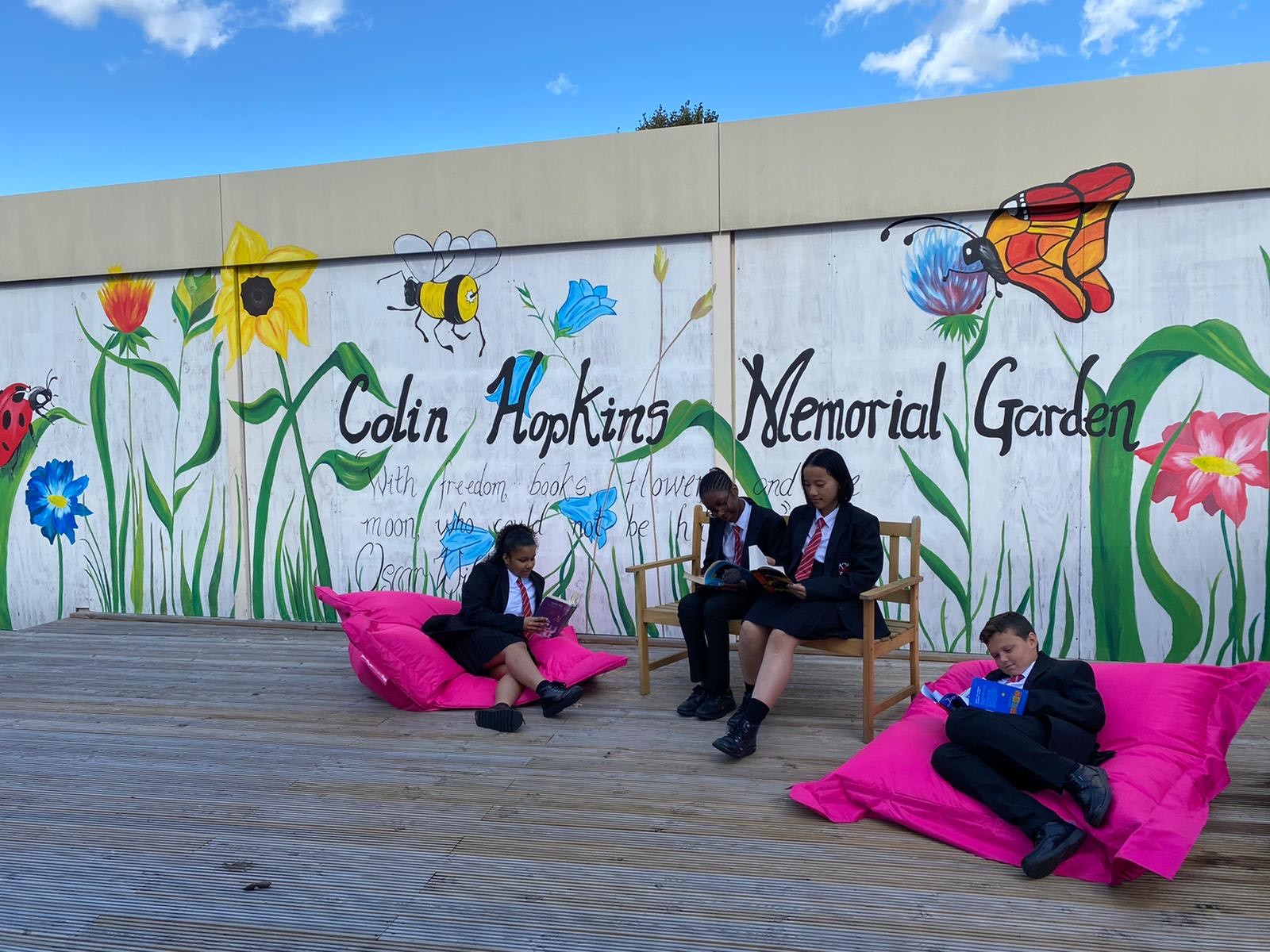 Robert Clack School, in Dagenham, Essex, used their Leader Award Grant to help build a new outdoor reading garden for pupils to improve their literacy and feel inspired by books – all while enjoying the fresh air.
The idea was to create an outdoor space where pupils could enjoy literature outside of the classroom (literally!). The space is separated from the playground with comfortable seating, plants and wall art.
The reading garden is dedicated to longstanding English Teacher Mr Colin Hopkins, who sadly passed away, and includes some of his favourite author's quotes to inspire the students.
"As a school, we are constantly striving to improve the literacy of our pupils… We have set aside a 'comfortable space' inside the library which has proved extremely popular with students. An outdoor space will build on that and be more visible in the playground, providing peer reading role models." said Rachel Elliott, current Jack Petchey Coordinator.
Robert Clack School applied for and were awarded a Leader Award Grant of £750 which was used to pay for the seating in the garden, including a deck chair, cushions and outdoor beanbags.
The Leader Award Grant is a grant that can be applied for in conjunction to a Leader Award, used to recognise exceptional teachers, staff and youth leaders for the work they are doing and the opportunities they are offering young people across London and Essex.
This Leader Award Grant was applied for with a recent Leader Award presented to Ellen Monk, Learning Resources Manager and Alumni Development Officer at the school.
"Ellen has always been an outstanding colleague and leader, but her work with the Robert Clack Alumni Association has truly set her apart…she is determined, through her work with the Alumni Association, to do all she can to support the pupils of Robert Clack School." Said Mr Paul Argent, JPF School Coordinator at the time.
Ellen was given the Leader Award for her work building relationships with over 1200 school alumni and involving them more in the work of the school, such as in mentoring and Skills for Life lessons.
We always encourage schools and youth groups to include young people in the nomination process, and Robert Clack's school council played a major role in nominating Mrs Monk.
Has your school received a Leader Award in the past year? Apply for a Leader Award Grant before October 16th to help fund an additional project or opportunity to benefit the young people you work with.