Mia volunteered with entrepreneurs in Tanzania!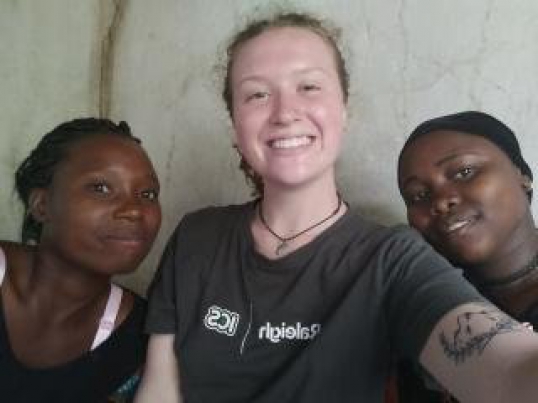 Mia travelled all the way to Tanzania, where she helped young people to learn all about business and how to start a career for themselves. It was made possible after she applied for an Individual Grant for Volunteering from the Jack Petchey Foundation, and was offered £400 to help cover some of the costs of this once in a lifetime trip.
During her trip to Tanzania, Mia volunteered as part of a programme run by the charity Raleigh. This project was focused on helping young people in the area to start their own businesses. Mia worked with people aged 18-35 to develop their ideas and offer support in starting up a business. She helped by passing on vital skills and knowledge they would need to create a sustainable and profitable business. They worked with a local business – which specialised in charcoal, timber and beekeeping – to deliver sessions around business tactics and how to progress an idea.
"I gained much personal development from the experience, working with people I had never met before as well as those from a different culture was very challenging at times. We had to work through our differences to ensure we delivered the best project we could. I also learnt that everyone can make a change, no matter how insignificant you may feel you hold the potential to change the world."
Alongside this, Mia also ran another project to help the local community. She opened a small shop in the local orphanage. The sales of this would help to earn some extra income for the orphanage, but would also encourage locals to run their own shop and manage the business. They paired the local entrepreneurs with a shopkeeper, who became a mentor to the young locals, as they passed on retail tips and business advice. The money they made was put towards buying new school supplies for the orphans and new toys for them to play with.
At the end of the course, the entrepreneurs were invited to pitch their business idea to a panel from Raleigh. From their group of business men and women, Mia and her fellow volunteers sent 14 groups to present and out of those 14, 12 were successful in getting a grant! Between them they were given 3.8million Tanzanian Shillings (just over £1200) to pool together and build their respective businesses. Not only will this help the entrepreneurs themselves, but it will build new jobs for other locals and generally create a sustainable and stronger economy for the area.