Nathan helps local businesses to grow in Kenya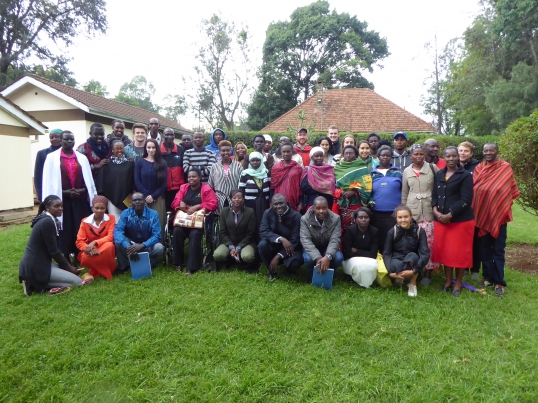 Nathan spent three months in Kenya as part of a once in a lifetime volunteering trip with Balloon Ventures and the International Citizen Service. During this time, he worked with a small team to help support local entrepreneurs in growing their businesses and, in the long run, helping to develop the community's economy in general. To be able to travel across the world for this invaluable experience, Nathan applied for an Individual Grant for Volunteering from the Jack Petchey Foundation, which helped to cover some of the travel costs.
While in Kenya, Nathan was responsible for offering business advice to various local entrepreneurs, introducing new ideas that they may have not previously been aware of. Nathan's previous experience in accounting proved to be extremely useful. He could help to analyse their numbers and spend hours going through their books to teach them bookkeeping tips they could then use to monitor how well their business was performing.
Nathan worked with two other volunteers (one Kenyan and one British). Together they worked directly with many different businesses as varied as hairdressers and charcoal traders as well as grocers and fishmongers. He recalls how, at first, it was a challenge to work together as they all had different backgrounds and ways of thinking but, with some patience, they soon worked well together and their different perspectives worked in their favour.
As a group, they followed the Balloon Ventures business curriculum that was built with input from leading entrepreneurs and experts from across the world and was made up of many tools and approaches to help businesses. These included customer development, start-up work and design. They were working towards the final task of each entrepreneur pitching for a 0% interest loan, so they could take their business to the next level.
While they had a general guideline to follow, the volunteers decided to play to each entrepreneur's strengths and what set them apart. For example, their hairdresser was very sociable and had brilliant networking skills so they focused on widening her client base throughout the local area. Whereas, for the fish seller and charcoal traders they focused on developing their practice to be more environmentally friendly, to ensure support from the government.
By the end of their programme two of the six entrepreneurs they worked with pitched for the loan, and both were successful. For example, Bernard successfully obtained a loan to develop his grocery store by installing shelves in his store to be able to start wholesaling. When looking back at the time spent on his volunteering programme, Nathan fondly reflects on the strong bond the volunteers developed with the six entrepreneurs and how great it was to help each one of them build in confidence as they learnt new skills and developed their businesses.
From his time volunteering, Nathan has developed in various ways. He believes that Balloon Ventures' mentality of 'think big, start small', which involves having big ambitions but testing them on smaller scales first, has continued to help him in his own career. Nathan says: "In the past I have had big ideas but have been such a perfectionist that I ended up not even attempting to start. But now I have taken the "think big, start small" approach in life I am a lot more willing to try things out and not be afraid of failure." He has since enrolled on to a Master's degree in Global Development at the University of Copenhagen and plans to implement the skills and knowledge he gained in this course.