Student wins Jack Petchey Achievement Award for poetic prowess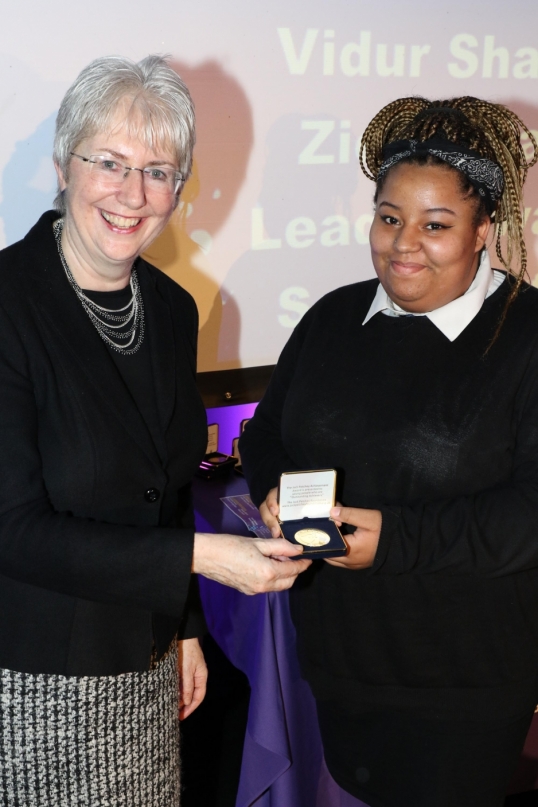 In 2015, La-Shay and a group of other Kingsbury students took part in a two day Slambassadors workshop run by London-based spoken word poet and playwright Deanna Rodger. They took part in a number of writing exercises to get their juices flowing, before composing their own poems on the topic of 'Identity'. After writing and editing their work, they performed their poems on camera. Following the workshops La Shay was selected to represent Kingsbury High at a showcase of poetry that took place at The Arts Theatre in the West End.
Following La-Shay's first year participating in Slambassadors, Joelle Taylor, founder of Slambassadors recognised her talent and dedication to writing. As a finalist in the Slambassadors competition, La-Shay was offered the opportunity to attend a week-long writing residential during February half term in 2016. The course was facilitated by award-winning poet and Slambassadors alumni Anthony Anaxagorou, where La-Shay and others were given the chance to develop and refine their writing skills.
Anthony was so impressed by the group's writing that he agreed with Joelle to publish a collection of the young people's work titled A Heartful of Fist through his own independent publishing company, Out-Spoken Press which was released in October 2016. Not many people can say that they are a published poet before even finishing high school!
Since receiving the Jack Petchey Achievment Award, La-Shay has continued to develop as a poet and support the Slambassadors program at Kingsbury High, both as a facilitator and through her generous gift of writing pads for all the participants, which was funded by the Jack Pethchey Achievement Award grant; a gesture that brought Joelle to tears when La-Shay delivered them to her workshop in late 2016.
La-Shay continues to write and has begun to perform her work to a wider audience on the London spoken word scene, most recently at a community event RISE UP at The Tone Coffee Shop in Willesden Green. La-Shay is an inspiration to her peers and teachers alike. She has performed her work in school assemblies, reducing halls full of staff and pupils to tears with her heartfelt poetry.
Chris Beschi, teacher at Kingsbury High and facilitator of the Slambassadors team comments "The Jack Petchey Achievement Award was a huge boost to La-Shay's confidence and has helped her along her journey to becoming a writer and role model to other young people; roles that she performs with confidence, diligence and enormous skill."
You can watch La-Shay perform one of her pieces here on YouTube.