The Jack Petchey Foundation visited City Hall to discuss how to shape a new London for young people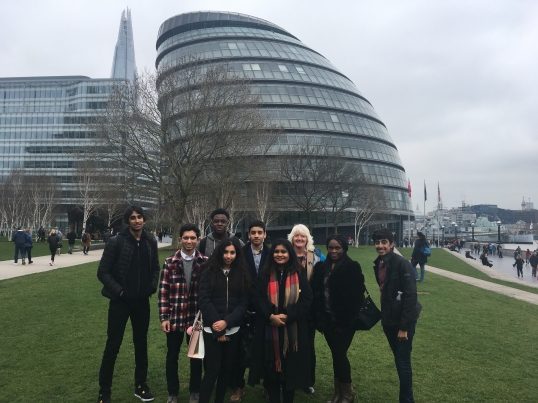 The Jack Petchey Foundation were invited to City Hall for the Vision for Young Londoners Conference to discuss what young people need from our capital. We took along a group of young people from the Achiever's Network programme to ensure that the views given were provided by those who would directly affected.
This conference was set up in response to the Mayor of London promising a grant of £45million towards developing projects and facilities for London's youth. A large majority of this money will be put towards new schemes and programmes across London and the remainder will go towards developing pre-existing programmes to give youth projects new resources and access to new facilities. The Vision for Young Londoners Conference was set up to give young people from across the city a chance to congregate and directly tell the Mayor's Office what it is young people need.
Before heading to the prestigious venue, we met with the young people to help them plan their thoughts ahead of the event. We encouraged each of them to think about what issues matter to them most and what changes they want to happen throughout London to help develop the city for the better. Being able to meet before the conference meant the group were then able to focus on the most important issues to them during the conference.
At the conference everyone was divided up and assigned random places across six tables. This enabled us to meet new people and network with other youth organisations and young people from across London. The conference was made up of various activities, which encouraged groups to discuss topics such as how communities could help young people, what ways they could promote such projects and what existing projects and activities already do well and why. All of the participants got the chance to share their views and have their opinions heard. A team member from the Mayor's Office was present at every table to summarise all of the points made and write up everyone's thoughts.
Towards the end of the event, everyone was invited to share what they believed mattered most to them. Many members of the Jack Petchey Foundation's Achiever's Network got involved and voiced their opinions to the wider group. There was a strong focus on young people getting more involved in politics and having the chance to have an active role within such projects. They also spoke about creating positive outlets for young people and developing spaces for them to go, learn and develop. There was an emphasis on focusing on the positive influence today's young people have on society, and steering away from the negativity that is so heavily portrayed.
Michael Bakare, an Achiever's Network member who attended the conference, said of the experience: "The conference gave me a feeling of empowerment. Attending the Young Londoners Conference gave me the ability to speak out for my peers, drawing from the skills I've learnt through working with the Jack Petchey Foundation. I feel as though I was able to make a difference, ensuring that the £45 million Young Londoners fund is spent in areas that will help build a better future."
Another Achiever's Network member, Sean Sinanan said: "It was a fantastic experience for our youth voice to be heard. Decision makers have disengaged young people for too long and it's finally nice to see how young people, as the future of London, can have a say in the opportunities to the youth. I am excited to be involved with the LGA in the future and seeing the Mayor's £45 million fund put to good use – thanks to the JP Foundation I am now a part of this change."