Jack Petchey Intern Walks Across London For Charity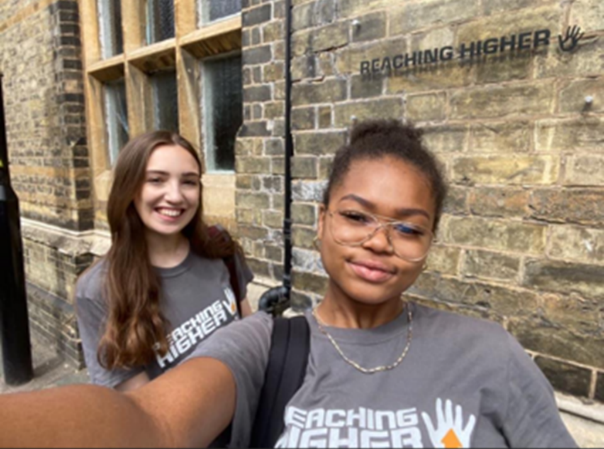 Penny Rolfe (pictured left), a participant in our current Internship Programme, recently organised her own fundraiser for her host organisation! It wasn't just one big walk in the park though – Penny gives us the full story below…
I began my JPF internship in April 2021 and I am the Youth Engagement & Early Intervention Officer at a youth organisation, based in South Norwood, called Reaching Higher. We work with young people within schools and also through our community provision; which includes football, drama, creative and leadership projects. We aim to provide young people with an opportunity to take leadership of their own lives and prevent them from progressing down risky pathways that they may be susceptible to.
At Reaching Higher (RH), all core team members are tasked with one fundraising initiative each year. As the RH offices are in need of being refurbished, due to the increasing numbers of young people that we work with on a regular basis, I geared all of my fundraising contributions towards the much needed refurbishment costs.
My colleague Leah is also an intern at RH and our shared youth engagement roles allow us to work closely together. After deciding to collaborate on the fundraising event, we organised time to meet and started brainstorming ideas.
In order to identify what types of activities were suitable for fundraising, we researched and condensed our ideas down to two options: a sports day and a raffle. We soon realised that neither of these options would be feasible within a short time frame, but when Leah suggested the idea of a sponsored walk across London, we knew we had a winner!
Instantly motivated by the challenge, we decided to begin our walk at Reaching Higher HQ in South Norwood and go from there to Alexandra Palace in North London. Participating in the RH fundraiser taught me a plethora of new skills and as I had only done a very small amount of fundraising prior to this experience, it was particularly valuable and gave me the opportunity to lead, collaborate and execute on a project.
From the start, I learned about the importance of event planning and was able to focus on the logistics of the distance and routing, before honing in on how the event itself would take shape. I also spent a lot of time working on my strategy for promoting the fundraising campaign, with both Leah and I setting up our own Go Fund Me pages to track the money we individually raised for the shared goal.
The donations page was shared with friends, family, across social media and with relevant organisations. Unfortunately I didn't receive as many donations as I had hoped for, but I am very grateful to those who did donate, as I understand the financial difficulties that the current pandemic has caused. I also recognise that fundraising in itself is very challenging, so I am proud of the thought and hard work that went into raising awareness to the campaign, as it all added to the overall learning experience.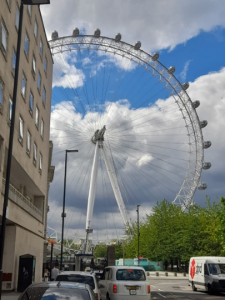 Our fundraising walk from south to north London took place on Thursday 10th June in the middle of the heatwave! When I woke up that morning, I felt slightly nervous, but was ready for the challenge and excited to complete it.
Throughout the walk we kept each other going and only stopped twice for very short breaks, as we were determined to complete it within the set time limit. Despite our thorough planning efforts though, the walk took a lot longer than expected. Let's just say that when we reached the finishing point – 8 hours deep – we were more than grateful.
Currently, I am 8 weeks into my internship at Reaching Higher and so far I am truly enjoying the experience. I have found it challenging to understand more about the expectations of the role and to identify how my position fits into the framework of the organisation; however I feel like I am now beginning to make progress. My confidence is continuing to grow and I am excited about being pushed outside of my comfort zone, whilst furthering my skills and gaining new experiences.
Organising this huge fundraising event was the first step of many, so please check out the our website below and watch this space…
https://www.reachinghigher.org.uk/
Written by Penny Rolfe