Petchey Academy students take over the Jack Petchey Foundation for a day!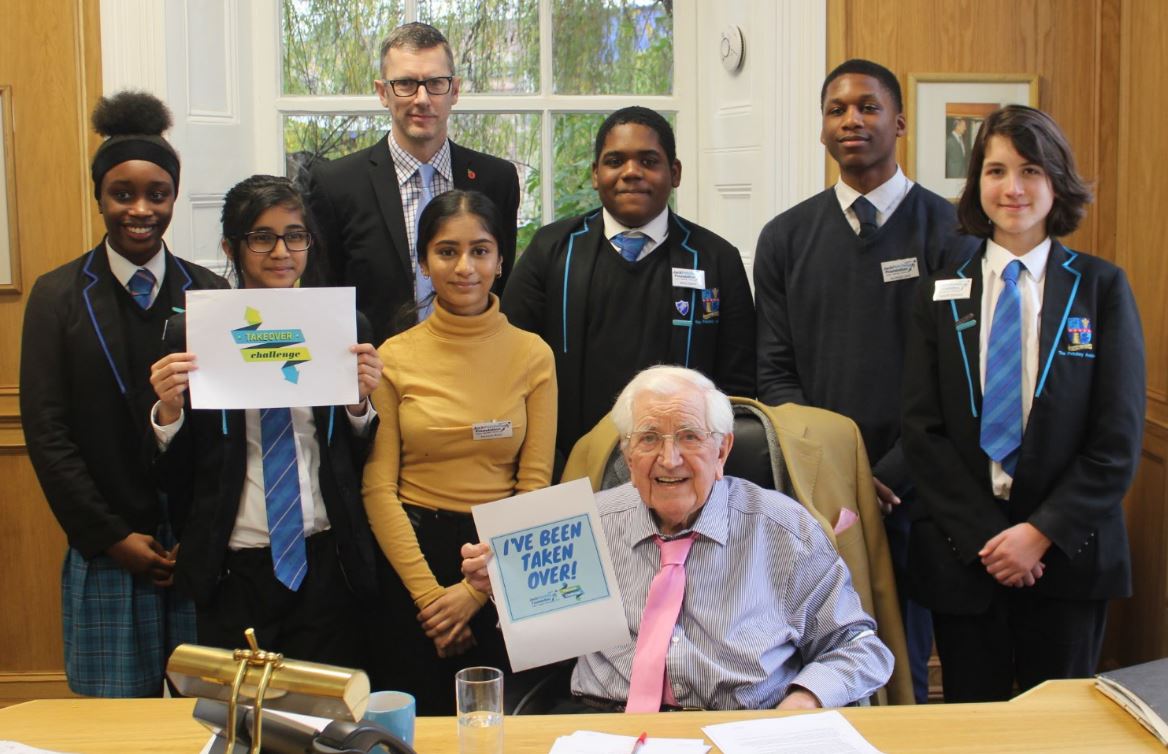 Last Friday, 23rd November, was Takeover Day and to celebrate the occasion, six students from the Petchey Academy were invited to the Jack Petchey Foundation headquarters to take over our offices!
Takeover Day was set up to give young people the opportunity to gain experiences from real-life jobs, while making decisions. It's based on Article 12 of the United Nations Convention on the Rights of the Child which says young people should have the right to a say in decisions that affect them We at the Jack Petchey Foundation feel strongly about giving young people the chance to have their voices heard and develop their skills, so we thought this was a brilliant chance to hear from the young people we support and get them involved in our work.
Six hard-working, enthusiastic and ambitious students from the Petchey Academy arrived on Friday morning, ready to get stuck into running our Foundation. As students of the Academy, each of the students were already aware of Sir Jack and his values, therefore, they were excited to look  behind the scenes of his workplace and get involved in our work themselves.
At the Foundation we have three main departments; PR and Communications, Events and Grants. We wanted to offer each student the chance to experience the work of all teams and gain skills from across our various departments. We created a task for the entire group to work on that would involve aspects from each team.
After a few warm-up exercises and ice-breaker tasks, the group were asked to discuss the issues they believe young people are facing today. From this, they were given the task to organise an event that would focus on providing solutions for this issue, to help young people and encourage them to meet one another and share their experiences.
The group worked brilliantly together, incorporating all aspects of the Foundation into their work; how they would promote the event online and in the media, how they would organise the event itself, how they would utilise our connections with young people and organisations to develop the event further. They also considered how it would fit into the Jack Petchey Foundation's mission and values.
Once the group had organised their event, they were given the opportunity to present their idea to the Jack Petchey Foundation's CEO, Trudy Kilcullen MBE. They delivered their pitch, which they had rehearsed thoroughly, with enthusiasm and passion. They considered all aspects of the charity, made the young people of London and Essex their focus and ensured youth voice would be central to the event.
After they delivered their speech, the young students got the chance to meet with Sir Jack and tell them all about their day in the office. With his years of business experience, he was able to offer them a few words of advice and encouraged them to continue to work hard in school to help reach their goals. As he always says: 'if you think you can, you can!'
The Jack Petchey Foundation enjoyed being taken over by the Petchey students and seeing them learn new skills, develop their understanding of working in an office and running a foundation for young people as well as collaborating as a team on a large project. We look forward to next year when more young people can get the chance to take over our offices for the day!