Taking Maths online with Mayor's Fund for London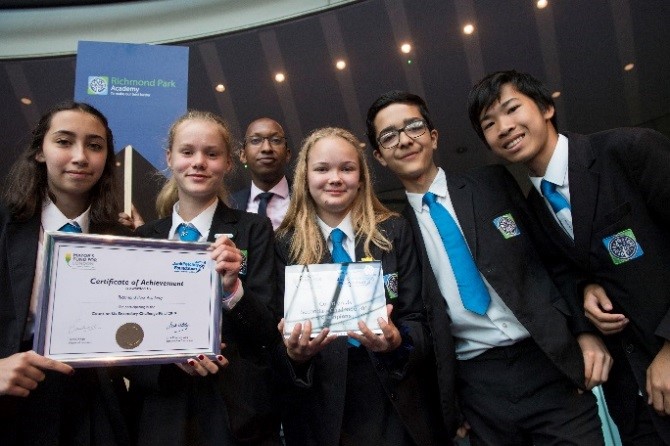 Mayor's Fund for London use their campaigning, convening and galvanising power to make the case for investment in opportunities for young Londoners from low income backgrounds. They support business, funders and others to understand and take the actions that have the most impact on young Londoner's life chances, and bring together partnerships and funding to back innovative ideas and to take promising initiatives to scale. We have been running the Count on Us Secondary Maths Challenge with the charity since 2014.
They are a very valued partnership of the Jack Petchey Foundation, and as part of our 21st birthday, we wanted to showcase what they do.
The following piece was written by Mayor's Fund for London.
The Mayor's Fund for London is an independent pan-London charity championing opportunities for young Londoners, especially those from disadvantaged backgrounds. Our programmes focus on three key priorities:
Well-being: supporting children to be happy, healthy and motivated to learn
Skills: helping young Londoners to stay on track at school
Employment and enterprise: increasing awareness of opportunities, preparing young people for employment and giving them better access to employers
We are now in the sixth year of the Count on Us Secondary Challenge programme, working with teachers and Years 7-9 students from over 70 schools across London to develop confident mathematicians, improve solving problem solving skills and develop mathematical fluency.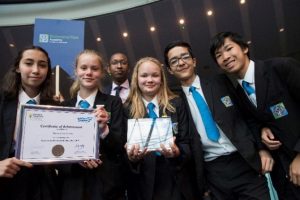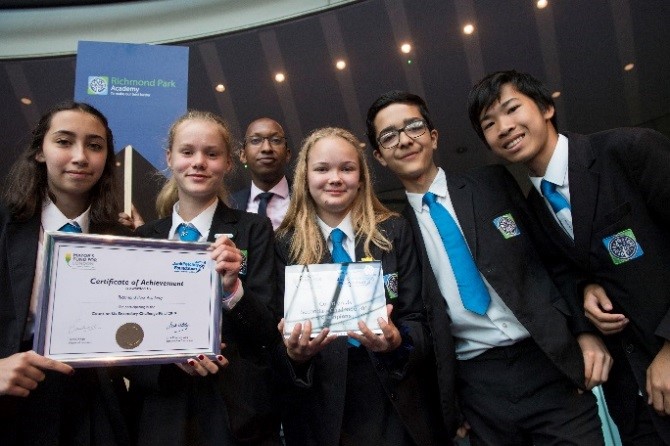 Count on Us competitors
The Count on Us Challenge programme leaps into action each year by bringing together lead maths teachers from across London for a training session at City Hall. Teachers are given a full support package of a Teacher Guide, Student Workbook and other maths resources to use in class and in clubs to prepare students for the in-school tournaments. A team is selected to represent the school in Heats and a Grand Final held in the Council Chamber at City Hall.
However, this year has been a little bit different to normal! When lockdown measures were introduced, we made sure that all of our resources were adapted and uploaded onto our website, along with additional activities including a brand new 'Maths at Home' booklet. To keep the Jack Petchey Count on Us momentum going, we also set up Weekly Challenges for students hosted on our website. Schools responded very positively and shared a range of ways they used the activities, including:
Count on Us team clubs
Show My Homework weekly competitions
Google Classroom tasks
School website Count on Us area
Twitter celebrations of best work
School newsletter celebrations of best work
Jack Petchey Count on Us Secondary Challenge Week 6th – 10th July
Having received such positive feedback to our Weekly Challenges, we decided to set up a virtual Challenge Week as the end focus event for this year's Count on Us Secondary Challenge. Chris Olley, our partner from The Maths Zone, created an exciting Challenge Week presentation pack, containing activities from each of the rounds, which we uploaded to our website for teachers to share with students during Challenge Week.
The activities could be done either at school or at home, in safely distanced groups, either online or on paper. Our only rule was that the activities had to be done during Challenge Week. Teachers could choose to set this up as a competition or in a more informal way. Our virtual Challenge Week has just come to a close and so far, our favourite response is from a student at Woodside High School, who says that he finds it really hard but that's what he likes the most – the challenge!
Feedback from schools
Sam Johnson is a maths teacher at Prendergast school in Lewisham who has been involved in Count on Us for several years. Here's a summary of what Sam did when schools closed due to Covid-19 and its impact on students' resilience and perseverance:
"I decided to create a weekly challenge competition for KS3 to complement their usual maths lesson and provide more of a challenge and a bit of fun. This was straightforward for me to administrate and monitor. I would post the current Weekly Challenge (from the Mayor's Fund for London website) on a Monday morning alongside the answers to the previous week. The students attempted the challenge and then uploaded their answers and working out. I provided no guidance or help with the activities, so they would have to be independent and if they were stuck then they would have to find out the method for themselves. This would have a lasting benefit in reducing the reliance on a teacher for a source of answers to every problem and develop much more rounded independent learners.
There was a varied take up of the activities with some getting a lot more engagement than others. Some weeks I would have 60-70 responses, other weeks maybe only 25-30. The top three who received a prize were part of a group of 14 students who participated in every activity.
The winner of the Weekly Challenges, who is in Year 8, said she really enjoyed the variety of the challenges as well as the difficulty of them. She especially enjoying discovering the cipher activities as well as the magic squares as they were a fun problem solving activity that she wouldn't normally have chance to do them as much in a normal maths lesson. She said she initially found them a lot harder doing them from home than in school as there was no teacher help but it really allowed her to work out how to find things online that would help her solve the challenge. The student who came second said she particularly enjoyed challenge 4 as it was fun and involved a lot of trial and error. She said she developed perseverance and how to find answers from alternative sources than teachers."
Michael Patten is a maths teacher at Uxbridge High School. He describes how he made use of the Count on Us Weekly Challenges on National Numeracy Day:
For the National Numeracy Day, I wanted to pick activities for everyone. I therefore chose the excellent 36 activity which was a variation on the 24 Game, along with the code activity which spelt the name of the Iranian mathematician Maryam Mirzakhani. This was particularly useful as I had created a virtual assembly for national numeracy day and one of the mathematicians I spoke about was Maryam.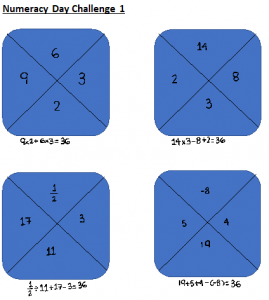 Here as some of the students' responses:
"I really like the challenges as they are much more interesting and harder than my usual mathematics work"
"I liked the challenge where I had to get to 36 using all the numbers. I found it hard looking at the screen but I have a printer so I was then able to print out and do my rough working. It was annoying when I couldn't make 36 but if I left it and came back to it I could get the answer"
"I like the challenges because they are not like my usual work and they make me think about things differently" 
 "I liked the challenges on national numeracy day. Maths is my favourite subject and I just did all maths work that day. It was fun to help my younger sister who is in Year 8 and was also doing the challenges"
 What's next for the programme?
Now that students have completed the final event of the programme – Challenge Week – we have just starting recruiting for next year's Count on Us Secondary Challenge! We are determined to use our learning from this year to adapt our activities and events to ensure that we can hold events at City Hall or have an equally exciting online alternative.
Schools can sign up to take part in the Count on Us Secondary Challenge 2020-21 here: https://www.mayorsfundforlondon.org.uk/our-programmes/count-on-us-secondary/register/