Celebrating the Achievement Award in lockdown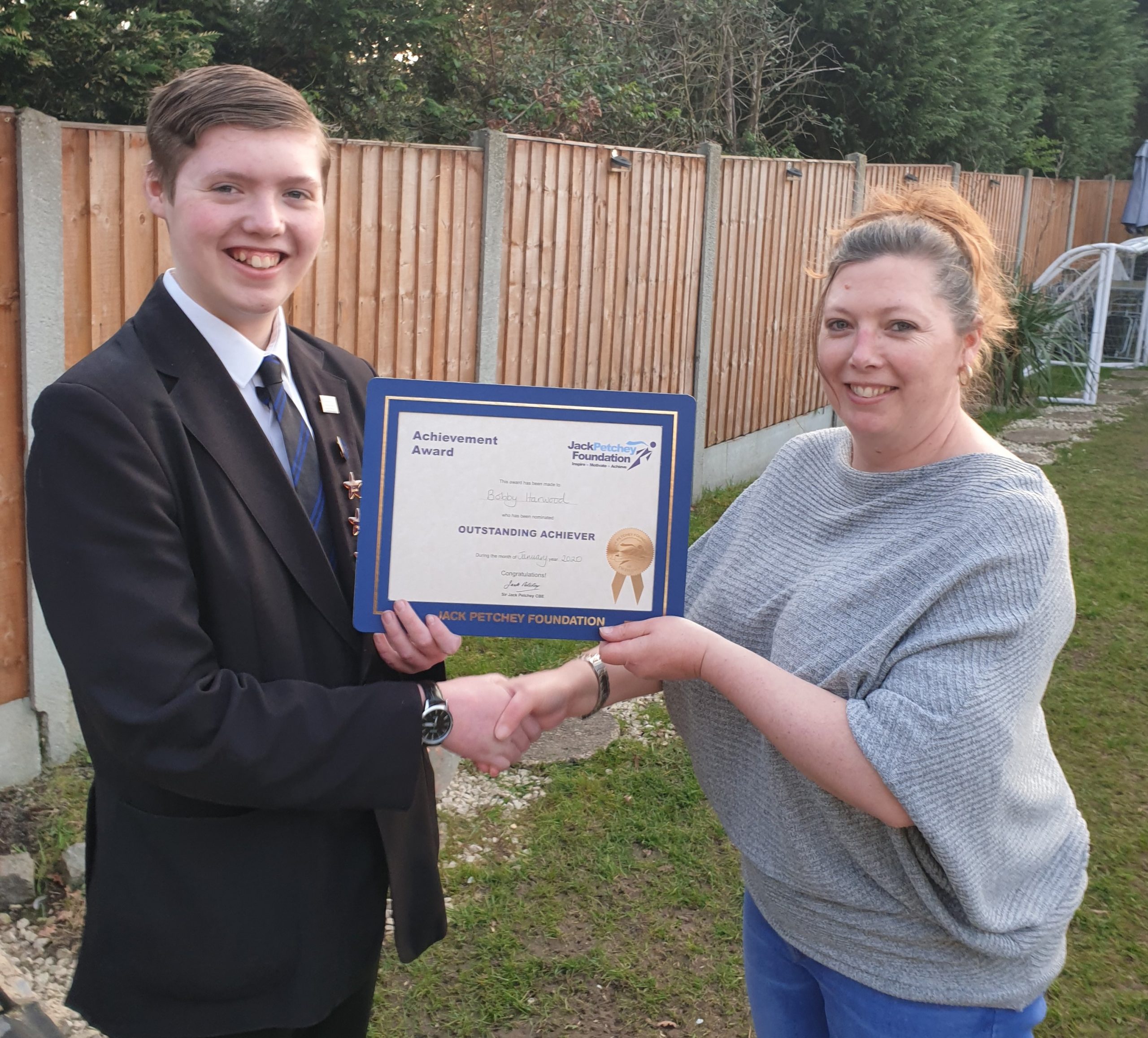 As a Foundation we have been so inspired to see how so many youth groups and schools are finding a way to celebrate the achievements of young people in a safe way during COVID-19.
The Achievement Award scheme is a great way to help support the young people you work with over this difficult time, both by recognising their achievements and by using the Achievement Award grant to help you support young people during this time.
We have enjoyed receiving your photos and stories via social media and email, and we thought we'd share a few groups going above and beyond to celebrate young people to celebrate the Achievement Award scheme and give you some ideas of how to run the scheme in lockdown…
Virtual Awards
James Hornsby School, in Basildon, has been using Google Classroom to interact with students from home and set work and found it a great tool to help them post nominations for last term, along with their social media platforms.
Their JPF Coordinator Victoria said that this was a great way to help give the students agency in the decision making of who is put forward for an Achievement Award and helped create a sense of community in the school.
Victoria said: "The nomination and celebration process at The James Hornsby School is now robust following some superb support and encouragement from our Grants Officer Nikki!"
The school then coordinated with a parent/guardian of the winners to present the award safely from home.
Photographed below is Bobby Harwood, year 10, who was given an Achievement Award for his personal growth since arriving as a shy boy in year 7 to progress to playing piano in assembly, organising fundraising events and taking a leading role in the school community. He is being presented the award by his Mum.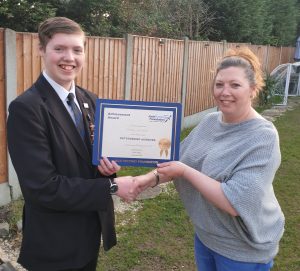 NFW City College, Redbridge, have been hosting their awards events on Zoom, a free video calling service, where they send out invites to their winners and present them with their award and a short speech about what they have achieved in front of the group.
Zoom is an excellent free way to celebrate young people's achievements remotely and it also allows you to share a presentation. You can use these tools to present your Achievement Awards and help bring your students/members together. Why not make an event of it and ask young people to share their favourite photos of the group/activities together and go through them together to enjoy a trip down memory lane.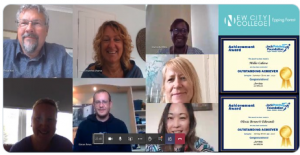 Socially-Distanced Certificates
Forest Gate Community School, in Newham, has been incorporating their Achievement Award celebrations into their virtual school assemblies.
Students and staff nominate a student via an electronic form and write the reasons why. Those students selected to win have their certificates delivered to their house along with the good news by a socially distancing member of staff.
The staff member then snaps a picture of the student with their certificate ready to celebrate their achievement with the whole school in the next virtual assembly!
Rob Clark, Forest Gate Community School's Jack Petchey Coordinator, said: "We recognise the hugely important impact that praise and rewards have for our students and with the support of the Jack Petchey AA programme we have managed to put a smile on the faces of some outstanding students during this difficult time."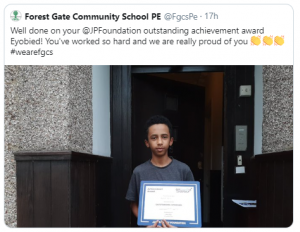 Theydon Bois Cricket Club, Epping, presented their Achievement Award at a socially distanced outdoor fitness session with the club! We thought this was a great way to celebrate the award in person, but remember to always follow the government guidelines of social distancing.
Spending the Grants
Hawksmoor Youth Hub has continued its commitment to young people deciding how best the grants can benefit its members and has used their grants for a range of activities. These include Tablets leant to some members to help them have access to the internet, plant materials to promote wellbeing and encourage members to create hanging baskets at home, and various craft materials including chalk drawing and clock making.
Jack Petchey Coordinator Claire said: "Lockdown has been difficult for everyone and for some of our members it has been challenging both mentally and physically. So our staff team of youth workers are doing everything we can to stay in contact with our members… It is great having the opportunity to continue delivering the Jack Petchey Achievement Awards."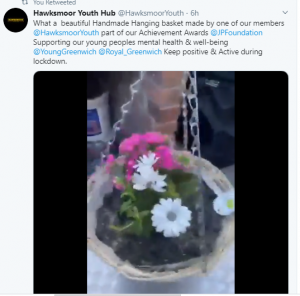 The Badminton Academy, Basildon, have used their Achievement Award grants in a multitude of ways to keep their members active during the lockdown – including as prizes for online challenges, online coaching tutoring, pop-up nets to be used in gardens and rackets for players that didn't own their own.
Are you running the scheme in lockdown? Tell us about it! We love hearing about the amazing achievements of young people you work with, and the impact of our grants.
Email us at pr@petchey.co.uk or tag us on social media.
Want some inspiration on what to spend your grant on in the lockdown? Check out our lockdown wishlist!