Meet Achievement Award Winner and YouTuber City Girl in Nature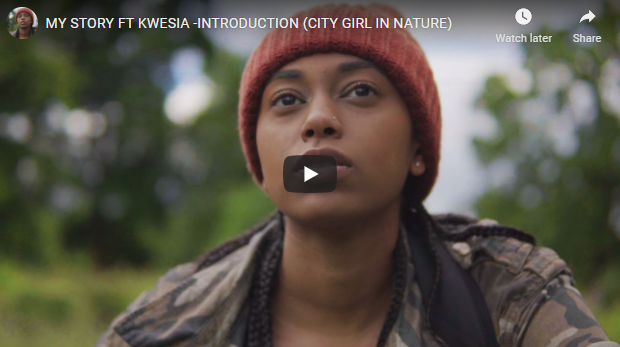 During the COP26, the UN's summit focusing on climate change and the environment, we want to share the incredible things young people are doing to positively impact the environment around them and raise awareness about climate change. That's how we met Kwesia, otherwise known as City Girl in Nature, former Jack Petchey Achievement Award winner who has launched her own YouTube channel sharing top tips and encouraging young people to get out and experience nature.
View this post on Instagram
Kwesia was awarded her Jack Petchey Achievement award from TRC Youth Club in Wandsworth for fund raising through presenting to the council's youth funding panel and has made a video for us giving young people some top tips to get out into nature as part of our campaign highlighting youth voice and action in combatting climate change – you can view Kwesia's top tips here!
While growing up in Deptford in South-East London, Kwesia experience a range of challenges. Kwesia found herself homeless, moving from sofa to sofa, struggling greatly with her mental health and well-being.
At her lowest point, she received an incredible opportunity from the British Exploring Society which changed everything. It was an opportunity to be a part of their expedition to the Amazon rainforest in Peru and to stay for three weeks in the heart of the forest with other young people and no connection to the outside world.
On the expedition, she felt a strong healing connection to nature, and wanted to share this with other people to see if it would touch others in a similar way that it had touched her life. Since then, Kwesia has taken part in various activities all whilst sharing her experiences and being an example for young people from her community. She is passionate to promote a connection to nature, and believes that everyone should have the opportunity to be healed, nourished and live with abundance through nature.
This led to the start of her YouTube series City Girl in Nature last year as a way to give back to her community. A discussion with a friend/filmmaker led to the idea of Kwesia starting her own film production company, with her channel City Girl in Nature creating weekly videos with information, top tips and encouragement for young people from cities to get into nature.
To find out more and follow Kwesia's City Girl in Nature series, subscribe @citygirlinnature and follow her on social media @citygirlinnature (Instagram) @citygirlnature (Twitter) & on her website citygirlinnature.com
Are you a young person striving to make a difference for the environment, climate change and young people? We want to hear from you. Email pr@jackpetchey.org.uk for the opportunity to share your story and your achievements!