Today's Role Models: Achievement Award winner to Weightlifting Gold Medallist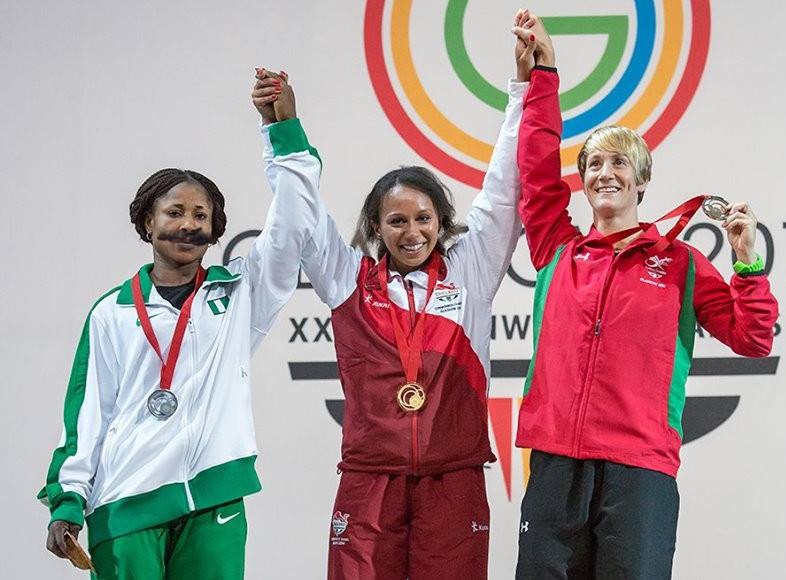 As part of our 21st birthday this year, we will be getting back in touch with Jack Petchey Achievement Awards alumni, who won an award at least five years ago. We want to see what they have achieved since we last spoke (and believe us, it's a lot!) to be role models to the young people of today.
This 'Today's Role Models' feature is about Zoe Smith who received an Achievement Award in 2006. She is now a successful international weightlifter and has achieved absolute mountains, all because of someone giving her the opportunity to try weightlifting at her gymnastics club…
As told by her mother, Niki Dakin.
How old were you when you got your Achievement Award and what were you nominated for? 
Zoe was 12 when she received her Jack Petchey Achievement Award. Bexley Europa Weightlifting Club had only recently joined the scheme in 2006, and Zoe was their very first Achievement Award winner. We still have a copy of the citation which gives the reason for her award: "For improving each of her lifts significantly – 10kg each – in only two months" – a massive achievement!
How did winning the award make you feel?
Being so new to the sport of weightlifting Zoe was totally surprised to be nominated for the award, especially as other lifters at the club had been there longer and had therefore made more progress. I know how proud it made her feel, and the recognition really gave her the encouragement to stick to the sport and to continue to try to improve.
How did you get into weightlifting?
Zoe had been a competitive club gymnast for a number of years, and had only recently moved to her new club 'Europa' which also had a weightlifting club at its base. One day (out of the blue – or so it seemed at the time) the gymnastics coach asked her if she'd like to go down to try some weightlifting. The coach had said something along the lines of: "Let's face it, you'll never make the Olympics as a gymnast – but maybe you'd make a good weightlifter!" Zoe accepted the challenge and never looked back. It turned out that the weightlifting club were looking for a girl to make up the numbers in a two boy/one girl team for the London Youth Games – the only trouble was Zoe was two years too young to take part.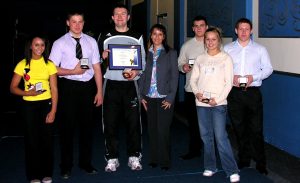 Zoe (far left) getting her Jack Petchey Achievement Award when she was just 12 years old
Tell us a bit about your sporting career.
Zoe's sporting career really did come about by chance, as I've just mentioned. If she hadn't been invited to give weightlifting a try it is definitely not something she'd have ever thought of doing. It is fortunate that as a young girl, she wasn't intimidated by the noisy, sweaty, male-dominated gym that she walked in to. She was made so welcome and was really lucky that the Head Coach, Andrew Callard, spotted her potential so quickly.
Even though she had only started training with the expectation of joining the Bexley London Youth Games team, as I've mentioned she was two years too young to pursue this as they don't (or at least didn't at the time) allow weightlifters to compete until age 14.
Instead, her first official competition came in 2007 at age 13 when she took part in the British Under 17s Weightlifting Championships. Zoe won her category and also broke the Under 18s British records for snatch, clean and jerk and total which had stood for 11 years. That event qualified her to compete at the European Youth Championships in Italy – so by only her second competition she was a GB international.
The following year, in 2008, Zoe was invited to travel to the Beijing Olympics as a guest of the British Olympic Association, as part of their British Olympic Ambition programme, which was initiated to give young Olympic hopefuls a taste of what they might expect at the London 2012 Olympic Games. It felt incredible for her to be so young and so new to the sport and to be thought of as a possible candidate for selection at our home Games. She told me that the excitement of being among the Chinese home crowd cheering for their weightlifters really made her hope she might experience the same in just four years' time – although that still seemed a far-fetched idea!
Between 2008-2016 Zoe's sporting highlights were:
July 2008: Silver medal for Clean & Jerk at European Youth Championships (Amiens, France)
October 2008: Gold at Commonwealth Youth Games – (Pune, India)
December 2008: Named BOA Weightlifting Athlete of the Year
May 2009: 8th place at World Youth Championships (Chiang Mai, Thailand)
July 2009: 6th place at European Junior Championships (Landskrona, Sweden)
September 2009: 5th place at European Youth Championships (Eilat, Israel)
May 2010: Silver medal at European Youth Championships (Valencia, Spain)
October 2010 – senior international debut: Bronze medal at Commonwealth Games, England's first ever female Commonwealth weightlifting medallist (Delhi, India)
May 2011: Silver medallist at World Youth Championships (Lima, Peru)
November 2011: competed in her first World Senior Championships (Paris, France)
April 2012: 4th place in my first European Senior Championships (Antalya, Turkey)
July 2012: Competed for Team GB at London 2012 Olympics – she made it! Zoe finished in 10th place overall and set a new British record in the clean and jerk of 121kg.
January 2013: Silver medal at the Australian Youth Olympic Festival in Sydney.
April 2014: Bronze medal at Senior European Championships (Tel Aviv, Israel).
July 2014: Gold medal at Commonwealth Games (Glasgow, Scotland)
November 2015: 9th place at World Championships (Houston, USA).
April 2016: Bronze medal for Clean & Jerk and 4th place overall at European Championships (Forde, Norway)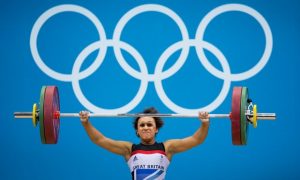 Zoe lifting at the London 2012 Olympics
And then the wheels came off …
Zoe had been more or less assured of her place in the Team GB squad for her second Olympic Games in Rio. All she needed to do was take part in the British Championships. I was in the crowd watching as she came out for her first snatch and then her shoulder 'went'. Zoe had sustained a bad injury that required surgery and would put her out of competition for a full year.
That was the darkest time so far of Zoe's sporting career, as it took a long time and a lot of hard work to try to regain her previous level of fitness and ability. She had to follow a strict rehabilitation and physiotherapy regime before she was able to lift weights again. Slowly though, she regained her strength and she has since taken part in the following events:
April 2018: Silver medal at her third Commonwealth Games (Gold Coast, Australia)
November 2018: World Championships (Ashgabat, Turkemenistan)
April 2019: Overall Bronze and Silver in Clean & Jerk at European Championships (Batumi, Georgia)
September 2019: 6th place finish at World Championships (Pattaya, Thailand)
Of course we're all now really hoping she'll be in the running for selection for this year's Olympic Games in Tokyo – watch this space!
What do you personally feel your biggest achievement is?
From a sporting perspective Zoe has previously told me that she finds it hard to choose between competing at the London Olympic Games and winning Gold at the Glasgow Commonwealth Games as her biggest achievement. Both events were so good to take part in because of the added excitement of a home crowd to cheer her on. On a personal level though, I know she feels her biggest achievement has to be getting through the dark times following her injury to get back to where she's at today.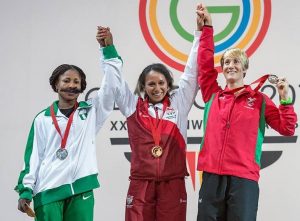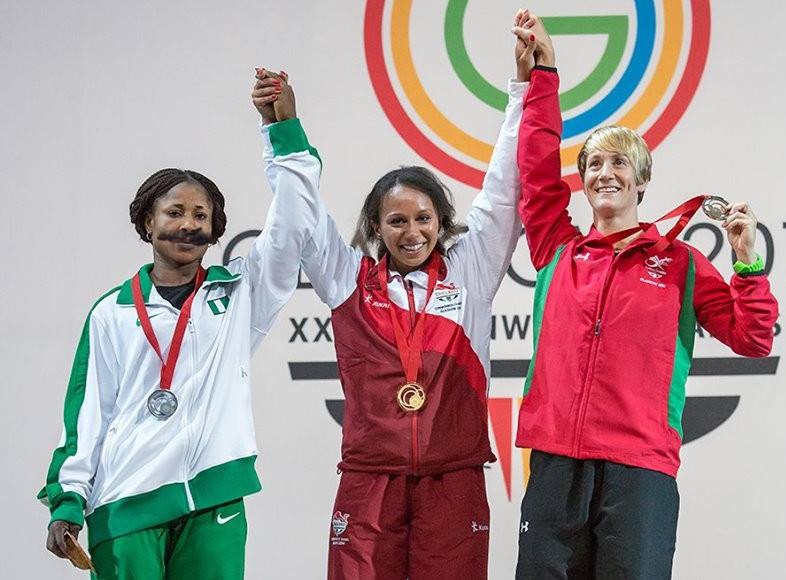 Zoe receiving a Gold medal at the Commonwealth Games in Glasgow, Scotland
It's safe to say you have achieved a lot already, but do you have any future ambitions?
Zoe still has so many future ambitions! She's still relatively young at 25, even though she's been competing internationally for 13 years and had so many amazing opportunities to travel the world. In the short term she hopes to compete at this year's Tokyo Olympics, then the Birmingham Commonwealth Games in 2022 (that'll be another amazing home crowd!) and the Paris Olympics in 2024, and everything that comes in between.
What is the best advice you would give to a young person today?
I would imagine that from her own experience perhaps the best advice she could give would be around not being afraid to try something new if you are offered the opportunity to learn. Nothing lost if whatever it is doesn't work out but unless you try you'll never know. Also when times get tough, keep going – don't give up if you have setbacks along the way to what you want to achieve.
Did you win an Achievement Award in 2015 or before? Get in touch! Email efox@petchey.co.uk or message us on Facebook, Twitter, or Instagram.
Want to read another Today's Role Models Q&A? Take a look here.