Alice volunteered as a team leader for a sustainability project in Cambodia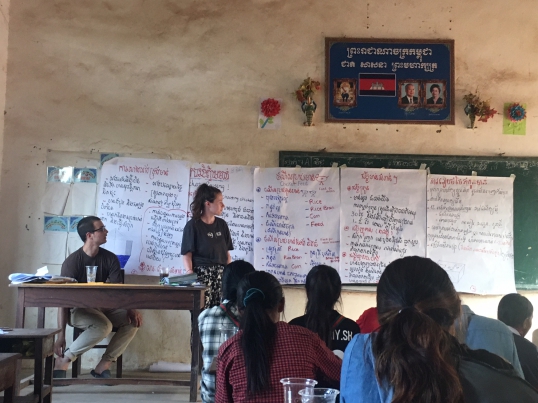 Alice Bird put her £400 Individual Grant for Volunteering from the Jack Petchey Foundation towards a trip to Cambodia. She went out there on a volunteering programme with the International Citizenship Service, who work alongside Voluntary Services Overseas. The project, which spanned across three months, was focused on implementing sustainable changes in a community in Cambodia to help develop their livelihoods.
When she arrived in Cambodia, Alice was made Team Leader of the project's group. She was in charge of managing a group of 16 volunteers, eight from the UK and eight from Cambodia. The team worked across three key areas; agriculture, business and careers. The project chose to focus on these subjects because, if properly administrated, they would encourage a sustainable and thriving community.
The volunteer project had a big focus on building a community of people ready for the workplace. The careers team helped many locals in the community by getting them enrolled on training courses through the local jobcentre, and, through this, three women were offered jobs by the end of the three months. The volunteers also taught English and IT in communities which rarely have any experienced teachers. By passing on these fundamental skills to the communities, they were in turn giving them an education to develop and turn into future careers.
A large part of the volunteering project was also focused on working with youth clubs and the younger generation in general. Many of the volunteers introduced young locals to new activities and promoted entrepreneurship to encourage them to think about their futures and go on to build suitable businesses for their area. The volunteers also worked hard to build new school desks and painted classrooms to brighten up their learning environment. In their spare time a lot of the volunteers would also teach English and played sports with the young people.
As well as teaching new skills and building on the community's education, they focussed on creating sustainable agriculture and resources for food. For example, the volunteers helped a local primary school to plant trees that would stop the annual floods they experience. Chicken coops were built and gardening plots were set up to encourage the community to grow their own produce. Volunteers also helped to create a local convenience store so the community would no longer have to travel great distances to shop at the nearest market town. This would in turn reduce costs and improve their local economy.
By educating the community on agriculture and business, the volunteers offered the local community helpful tips that when implemented would create a sustainable lifestyle for them to continue. This meant that the work the volunteers have done will have a lasting impact for years to come. Alice said of the experience: "I have learnt how to empower others and manage them to achieve things they did not think they could. This experience has significantly enriched my life, in terms of the things I take for granted, my values and what I want to achieve in my life, it has inspired me to continue volunteering."