Today's Role Models: Achievement Award winner to Rugby Entrepreneur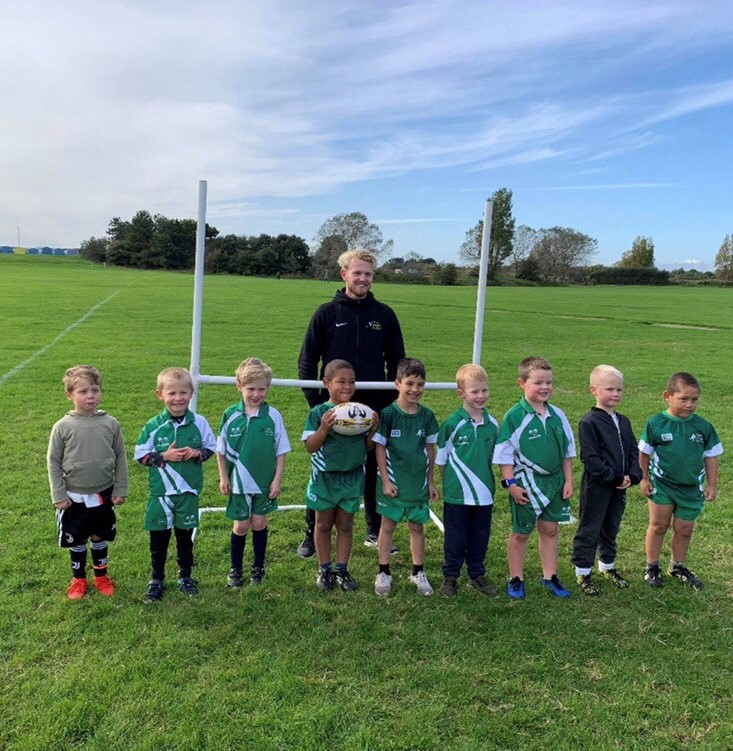 As part of our 21st birthday this year, we will be getting back in touch with Jack Petchey Achievement Awards alumni, who won an award at least five years ago. We want to see what they have achieved since we last spoke (and believe us, it's a lot!) to be role models to the young people of today.
This 'Today's Role Models' feature is about Ben Gale who received an Achievement Award in 2014. He is now the owner of Tiny Rugby School – a club that teaches young people tag rugby throughout Harwich and Colchester.
When did you receive your Achievement Award and what were you nominated for?
I was given a Jack Petchey Achievement Award back in 2014, at Colchester Sixth Form college where I was studying for my A-Levels. The coaching course that I undertook was simply just an additional optional that I needed to fill and I never thought it would lead to the success that it has.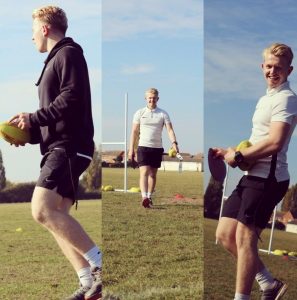 Ben on the pitch
How did winning the award make you feel?
I felt very honoured to receive the award – it made me believe the work I was undertaking at the time (coaching rugby in various schools) was appreciated, valued and making a difference.
Tell us a bit about what you're doing now, and how you got there.
Before I started at sixth form, I had a good level of rugby experience – I represented Northampton Saints Premiership Rugby Club in their centre of excellence for three years. As well as that, I played at Eastern Counties (regional rugby) during the same period. I had never considered coaching rugby until I started, but I found a hidden talent and really started to enjoy it! That's when I was given a Jack Petchey Achievement Award for my contribution to coaching rugby in the community.
I then went to university and completed a year of study, but left as I didn't enjoy it. Following that, I tried four different desk jobs which just didn't suit my personality of having lots of energy and being very driven.
I realised I had to do something that I was passionate about and started Tiny Rugby School in June 2018 as a small Saturday morning job. Fast forward two years, and I have grown it to a full-time thriving operation of six days a week, have taken on another coach, and am looking at employing more staff soon.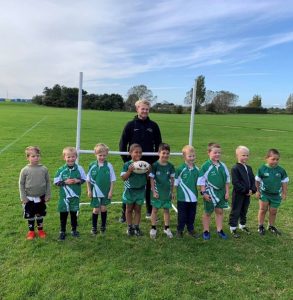 Ben with one of his teams 
I feel that I have finally fulfilled my purpose in coaching children the sport that I love playing myself, and seeing the fun they have as well. Tiny Rugby School gives these children the opportunity to thrive in a competitive environment that reflects the challenges they may have to over come in the classroom and every day life, as well as also installing confidence, discipline and courage into them.
I'm only 23 years old and had my first daughter at 17. My wife and I are now expecting our third child together. The challenges of having our first daughter at such a young age and whilst we were in sixth form has not been easy by any means. But hopefully this can really demonstrate to a lot of people that with hard work, determination and never ending drive to better yourself, that you can achieve anything you want regardless of age, or circumstances. Nothing has been given to me, even as a teen playing. I had to work incredibly hard and stay disciplined to achieve what I have.
What's the most challenging thing you've overcome?
Becoming a parent at 17 has to be the most challenging thing I've had to overcome. This brought responsibility at an early age, and the pressure of trying to choose a career path with the understanding that it's not just about me. The responsibility and pressure of this didn't just stop once I left education either, as I had to take on jobs I didn't want to do, just to support my family. Leaving full-time employment to start my own business also brought a lot of risk due to having the financial safety of a wage every month to rely on, but I  made the jump and never looked back!
What do you think is the hardest thing for young people today?
I feel from my own personal experience that the hardest thing for young people today is staying focused on what they are trying to achieve without being distracted and drawn into what their friends are doing or what their parents want them to do. Staying disciplined and focused on trying to achieve a goal or a dream is difficult when your friends are having fun and you feel that you're missing out, but worth it in the end.
What advice would you give to young people today?
My advice for young individuals today would be to stay focused on what you're trying to achieve for the right reasons. To dig deep in your mind and find what you really like doing and do more of that regardless of what anyone tells you or wants you to do. Don't follow a career path because you think it will give you lots of money to buy a lifestyle and materialistic things, follow what you enjoy the most and don't be afraid to try lots of different opportunities that you have because this is what will lead to your passions and potentially materialise into your future career.
Did you win an Achievement Award in 2015 or before? Get in touch! Email efox@petchey.co.uk or message us on Facebook, Twitter, or Instagram.
Want to read another Today's Role Models Q&A? Take a look here.