Billie & Daniel's Lockdown Tips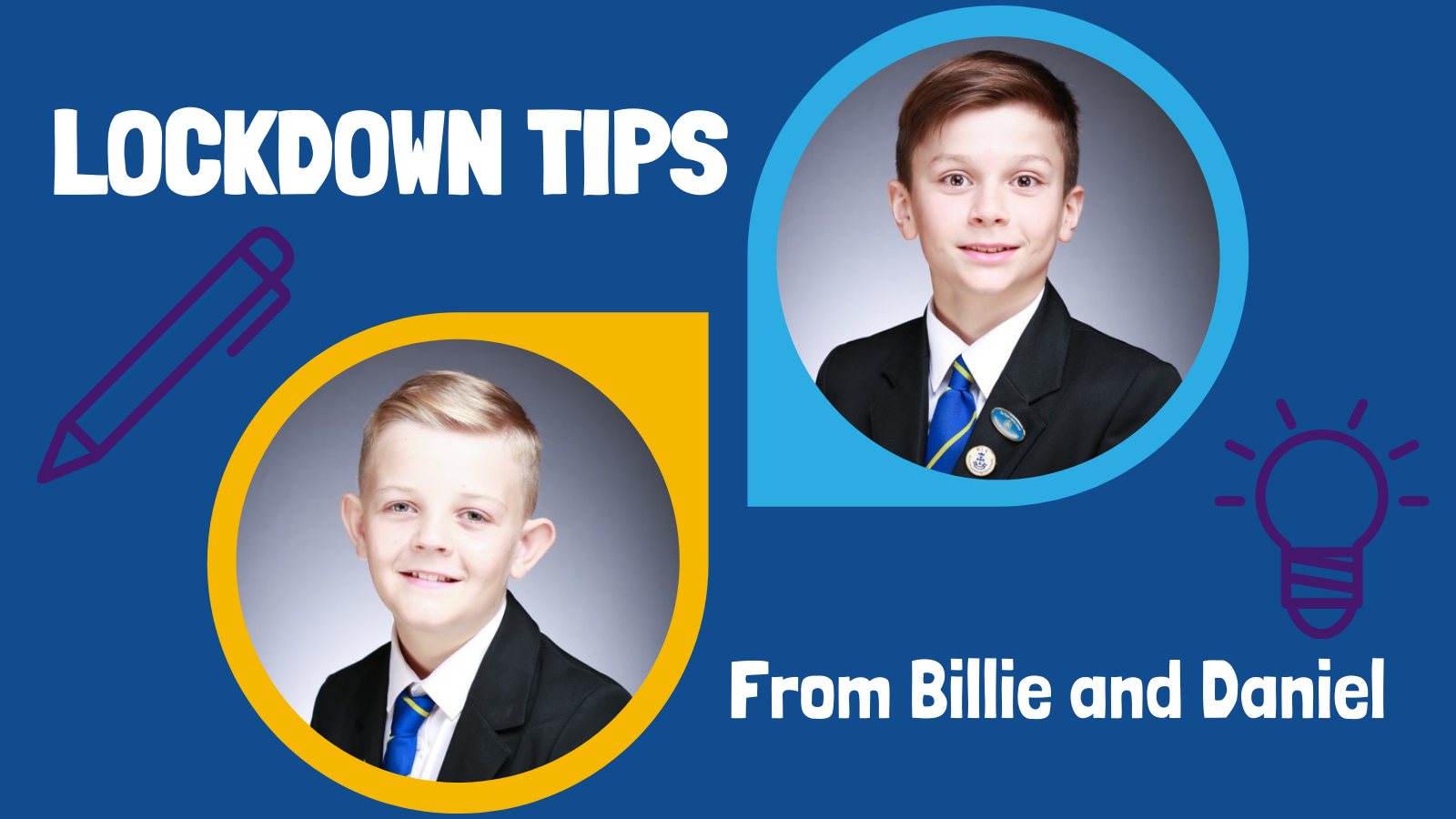 Year 8 students Billie and Daniel (Royal Liberty School, Romford) share their hopes for this year as they reflect on what they have missed over the lockdown, but also what they have learned…
Disclaimer: this was written before the most recent government announcement of students returning to schools.

Billie
If someone told me years ago that I would not be attending school, I would have been delighted. I didn't enjoyed primary school and would often pretend to be sick to get out of going. Since I joined secondary school I have grown in maturity and confidence, enjoying every aspect school has to offer. And now I miss the teachers, and my favourite subjects of PE and Science.
I can't wait to get back to school and learn face to face, not staring at a computer. I wasn't very good at technology and the thought of online school made me really panic. Somehow, with the help of my Dad`s I.T support I survived.
I look forward to my mum being safer as she works on the front line with the NHS. The thought of her catching the virus and fetching it home is always on my mind.
Now in the third national lockdown and I realise how I used to take things for granted such as time with my friends, kicking a ball around in a playground and even the food from the canteen, especially the Chicken burgers!
I was previously a very active sports man spending around 12 hours a week playing football and Ice Hockey and feel I am not as fit as I used to be. However, I am still doing as much fitness as I can, like going down to our home gym in our garden and using the punch bag, weights and cross trainer. I also started running with my mum and we completed the couch to 5k which my mum was very happy to have been able to achieve!
My Ice Hockey club has set us a 200km team roller skate challenge which I really like and my dad comes along on his bike with me……we do around 10km each time we go out which really makes my feet ache. We have also been having fitness zoom calls with my football team that I have been doing in the garden. These activities make me feel a lot happier. I am desperate to hit a Hockey puck and lace up my skates once again, hopefully soon!
I have learned lots of new things during lockdown like baking cakes with my sister, new woodwork skills with my Dad and even how to make my Bed!
Some tips I found for staying positive in lockdown include maintaining friendships by having facetime calls, playing games online and meeting my friend who lives down my street and walking our dogs (socially distanced of course). I also tried a virtual sleepover where we watched the same film and ate popcorn.

Daniel
Although times right now are tough and restricted, everyone is trying hard and persevering so we can eventually defeat this virus. Since schools have been closed, teachers have been working very hard to ensure the children still have a positive education. I would like to thank teachers for their hard work and dedication towards children.
My hopes for 2021 aren't just for everyone to stay safe but to finally go back to school. Just seeing teachers and all my friends happy brings me joy and cheerfulness and makes my day a hundred times better. Going back to school would also mean I would get to finish what I started such as teaching younger children about science (as science ambassador) and finishing the football league which we want to win.
I also miss my after school activities, like swimming. Swimming is a big part of me and unfortunately this is the third time it has had to stop because of the current situation. Everyday, the urge to go to the pool and swim grows bigger and bigger. Over the years I've swam, I can say with certainty that it has changed my life for the better. Not only has swimming made me physically stronger but also mentally. I'm happy  that I do such an amazing sport with an amazing community around it. I've built such a strong  bond with friends and coaches that they are now practically family to me. Now, not being able to see them breaks my heart.
Although life isn't totally normal right now, I've still got many nice, positive and funny things happening. If i ever want to go for a swim, i turn on the hot water in my bath and do some swimming, even if it isn't as big, it still gets the job done and sometimes I even hit my head. Another positive thing still happening is staying in touch with my friends, family, and even teachers! Talking to them really brings me happiness. Some tips to stay positive in lockdown is to keep yourself occupied and try something new!
Would you like to share your thoughts on how young people can stay positive and motivated in the lockdown? Email pr@jackpetchey.org.uk to find out more about writing a blog for our website!