College student shares her experiences after visiting Auschwitz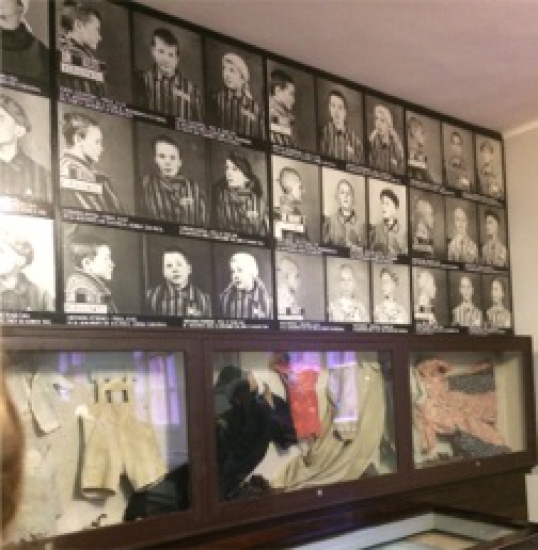 After returning from a memorable visit to the Auschwitz-Birkenau Memorial and Museum in Poland, Lela was so inspired by the sights she had witnessed that she wanted others to be educated about the historical site too. She became dedicated to sharing her experience with others and telling them what she had learnt. In recognition of this dedication, Lela was nominated for an Achievement Award from the Jack Petchey Foundation by her fellow school mates.
Lela, a sixth form student at Woodhouse College, visited the memorial in Poland as part of a trip organised by the Holocaust Educational Trust. She was part of a large group, including fellow Woodhouse College student, Tracy. Lela was aware of the harrowing events and had read up on the history of the Holocaust, but says that visiting the area and witnessing it first-hand sparked a very emotional reaction.
She said: "There's a real atmosphere of oppression, a darkness that kind of sticks with you. When I returned home I couldn't discuss my experiences with anyone for days, because I just had to try and process the whole thing."
However, once she felt comfortable to speak about the trip, Lela felt compelled to share her experience with her fellow students  and help educate them on the tragic events of the Holocaust. She delivered a presentation to her tutor group and opened up a group discussion to get everyone asking questions and talking about the subject. She pointed them in the direction of further resources to research the subject further themselves.
After delivering such an inspiring presentation, Lela organised a webinar so that her class could connect with another school, where a Holocaust survivor was giving a speech to the students there. Being able to hear the account of someone who had personally been through the events made a huge impact on the students.
Not only did her experiences help to educate fellow class mates at school, she took her presentation elsewhere to educate the wider community too. On Holocaust Memorial Day, Lela was invited to give a talk at Barnet Council's annual commemoration at Middlesex University. In front of a large group, which included various local dignitaries, Lela delivered her presentation, which many of the attendees noted as powerful and very moving to hear.
The MP for Chipping Barnet, Theresa Villiers, said: "The contribution made by Woodhouse College sixth former, Lela, really stood out. She spoke about a visit she had made to the Auschwitz Birkenau concentration camp and the deep impression it had made on her."
One of the event organisers said: "She read with great clarity and expression, and a number of the audience remarked on how greatly touched they had been by her reflections."