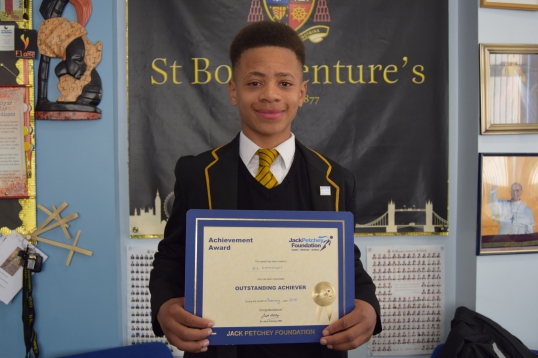 Dre Emmanuel, a Year 9 student from St Bonaventure's School, has been awarded with a Jack Petchey Achievement Award after selflessly helping a classmate in great need. While walking home from a football game, Dre saw a friend of his collapse and he reacted instantly to make sure the young boy got the help he needed.
Dre was on his way home from playing football in the Quarter Final of the London Cup at Wanstead Flats when he witnessed his fellow player and friend, Matthew, collapse suddenly to the ground. Upon seeing the accident, Dre quickly ran to a nearby house where he asked them to call an ambulance for his friend. They were told there would be a wait of up to two hours before the paramedics would arrive, but Dre insisted on staying with Matthew until they got help!
When the ambulance did finally arrive, Dre said that he wanted to go with his friend to the hospital and ride in the ambulance to make sure he was alright and keep him company. He wouldn't leave his side until Matthew's Mum arrived at the hospital. Matthew, thankfully, was discharged later that night after having various tests taken at the hospital.
When Mr Halliwell, the Headteacher at St Bonaventure's, heard of the event he was very proud of Dre's selfless and caring attitude towards his friend. He called Dre into his office at school and presented him with the Headteacher's Commendation to recognise his bravery. It was then decided by faculty and students that Dre deserved to win the Jack Petchey Achievement Award for helping his friend and staying with him for such a long time too. Dre will now get the chance to spend a £250 grant from the Jack Petchey Foundation on whatever he wishes to enhance his and his classmates' experience at school.
Headteacher Mr Halliwell concluded: "I am really proud of Dre for what he did and I know Matthew was grateful too. Not many teenagers would have stayed so long waiting but Dre was determined he wouldn't leave his teammate and I think that is wonderful."