Lydia travelled to Tanzania where she led a group of volunteers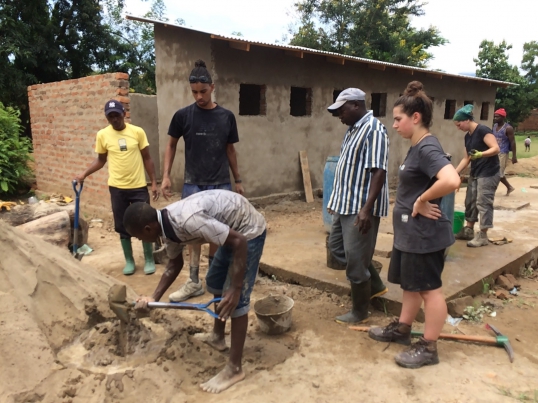 Lydia took an incredible trip across the world to Tanzania, where she volunteered to help develop a community's water supply and improve their sanitation. She applied for an Individual Grant for Volunteering from the Jack Petchey Foundation and was awarded £400 to put towards the costs of this amazing experience.
Lydia was made a team leader on an International Citizen Service (ICS) Schools Water Sanitation and Hygiene (SWASH) project with the volunteering charity, Raleigh International. She worked closely with a Tanzanian volunteer team leader to lead a group of 13 volunteers. The group was made up of eight volunteers from the UK as well as five from Tanzania. The group worked closely together on various projects.
The main focus of the volunteering was on building a sanitation block at the local primary school, Mgundeni Primary School. Installing this station would drastically improve the children's hygiene and sanitation on a day to day basis.
Alongside the installation of this sanitation block, the volunteers also worked hard to deliver educational talks to raise the community's awareness for many topics. These included talks on; Hand and Self Hygiene, Water Safety, Food Hygiene and Preparation and Menstrual Hygiene Management. The group of volunteers also delivered sessions on how to properly manage and care for the new sanitation block at the primary school. They also organised two community action days to bring the community together and encourage them to all get involved in attending their talks and projects.
As team leader, Lydia was able to notice significant developments throughout the volunteer group. She noticed how much more confident each of them became from speaking publically in front of large groups, which were often made up of hundreds of people. Some of the UK volunteers would even do this in Swahili! Each volunteer also took it in turns to lead the group for a week and every one of them told Lydia beforehand that they felt anxious but by the end of the week they wanted to continue or repeat the experience.
Lydia personally saw the experience as a brilliant experience that allowed her to broaden her knowledge of the world and how others live. She said: "This experience has been unforgettable. I'm not able to list all of the things I have gained from this experience because it has changed my entire outlook. I have a better understanding of the world, as I have seen first-hand the struggles that communities all over the world face on a daily basis. Moreover, the relationship I developed with my volunteers has been the greatest reward."