Mayor of London among audience for young music group at Holocaust Memorial Service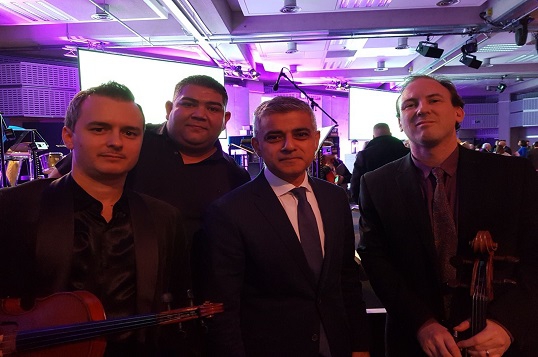 The Roma Bridging Sounds Orchestra (RBSO), the first Roma Youth Orchestra in the UK, has been running for three years as a way to encourage young people within the Roma community to get involved in music. Last year, one of their ensemble leaders, Matt Swain, was presented with a Leader Award by the Jack Petchey Foundation for inspiring so many young musicians in the group. The group then applied for a small grant of £750 from the Foundation and has since used the money to help develop the group's musical education.
RBSO, a unique initiative for 8-18 year-olds, was first set up to give young people within the Roma community a place to learn about music and practice playing different instruments. The group is made up of both Roma and non-Roma members. This mix allows the young Roma musicians a chance to learn about various musical styles while educating non-Roma students of the cultural traditions in Roma music. The group was set up to form a bridge between the different communities.
Leader Award winner, Matt Swain was nominated by his students for inspiring them in every session. Matt and his colleagues then decided to put the £750 grant towards creating new compositions for the group to learn and perform, introducing them to new styles of both Roma and Traditional Western music. This investment was made in order to develop the group's repertoire and allow the members to practice their skills by introducing them to new compositions.
Once mastered, the group were then offered the chance to perform their new music at the Holocaust Memorial Service in Westminster in January 2018.
The large audience included the Mayor of London, Sadiq Khan. He was so impressed he took the time after the memorial to meet all of the group's members and leaders. The event was a brilliant experience for the group to both practice their new music and perform in front of a large audience.