Thurrock Scout puts his first aid skills to the test!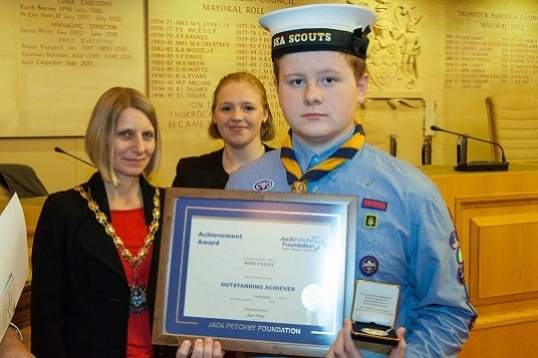 Aiden O'Keefe, was presented with an Achievement Award last year by the Thurrock Scouts for his quick think and courageous actions when he came to the aid of an elderly couple who were injured in a car accident.
As they were in the process of getting out of their car, they accidentally drove forward into another car at the same time. Both were quite badly hurt and Aiden was the first person on the scene. He stayed calm and quickly went to alert the emergency services whilst the car was made safe. When he returned, he gave emergency aid to one of the passengers whose leg was bleeding. He used his own sweater as a bandage and sat talking with him until an ambulance came.
Aiden reflected on the experience saying, "because of the first aid training nights I have had at Scouts, I knew what to do and was not scared. Many people went past, but didn't stop to help. As a Scout we are taught to help other people. I instantly knew I had to get the emergency services and try to stop the bleeding. It seemed a natural thing to do and it felt great to be able to help the couple."
Aiden has been Scouting for over four years with excellent attendance and is progressing well through the award scheme. He never once came seeking praise for his actions and it was only after his mother mentioned the incident that his patrol was made aware of his admirable conduct. Aiden's bravery and level-headedness in such a situation makes him a deserving winnner of the Achievement Award.