Timi helped to set up youth and womens groups in Nepal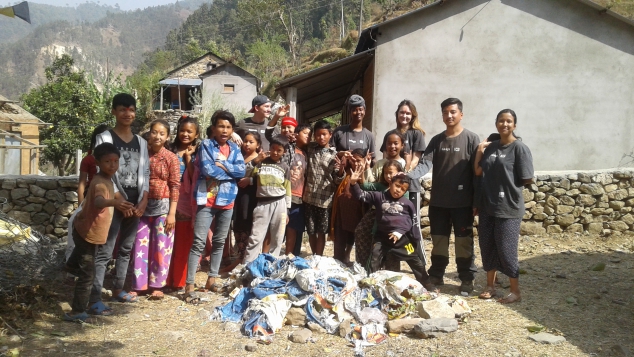 Timi travelled across the world to Nepal where she volunteered for over two months in AapChaur, a rural village in the district of Makwanpaur. During her time in Nepal, Timi helped to deliver various training sessions and activities for the community, to raise their awareness around important topics. Timi applied for an Individual Grant for Volunteering from the Jack Petchey Foundation and was awarded with £400 to put towards the costs of undertaking this incredible opportunity.
Along with a group of fellow volunteers, Timi helped to put training in place for the community around subjects such as sanitation, hygiene and harvesting. She also helped to build 23 polytunnels that will be used by the community to develop their vegetation and harvesting each year, helping to create a sustainable environment for the locals.
Timi also played a big part in engaging the women and young people of the community, who had often been left on the side-lines as they did not get involved within the community. She encouraged them to become active citizens by setting up a youth and women's group, which helped them to build up their confidence. Every Saturday they set up a youth club with lots of activities that ranged from sports to entrepreneurism. This encouraged the local children to get involved and think about their future too. They also helped the children to organise a big event for the Holi celebration too.
In the past there had been a lot of tension between groups around the local community, and this often caused friction between locals. Therefore, the volunteers decided to organise two big community events for the entire village to attend. This helped to build relationships between the various groups and diffused the tension. All of their work helped to build a good foundation for the community to now thrive even after the departure of the volunteers.
By volunteering, Timi was able to build her confidence and develop her communication skills, as she would regularly lead groups and talk to a large number of people at once. Not only is this daunting in itself, but they all spoke a different language to her so she had to adapt communication to ensure they knew what was going on.
Timi said: "when we left the community members were very happy with everything we helped them achieve, they felt like we helped them have a better understanding of how to improve their livelihoods and the benefits of trying to expand the variety and size of the crops they grow." She continued: "The biggest overall impact was seen in the youth and the women of the community, the youth were often seen as a nuisance and the elders did not have much confidence in them and they didn't have much in themselves."