Volunteer educates Nepalese women on the warning signs of breast cancer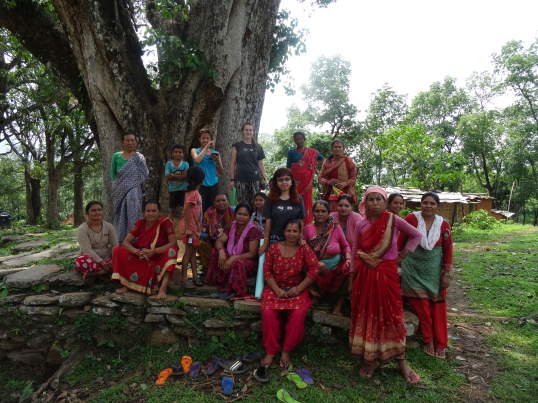 Jessica used her Individual Grant for Volunteering from the Jack Petchey Foundation to travel to Nepal for ten weeks. During this time, she worked as part of a team to help deliver various sessions for the local communities . These sessions were each set up with an educational element in order to raise awareness of certain topics and offer information they otherwise may not have access to.
During her volunteering placement Jessica was based in a rural community in Lamjung, Nepal. Her team were responsible for planning, organising and delivering various sessions to help educate the locals. They decided to cover a wide range of topics.
One that particularly stood out to Jessica was the session on Breast Cancer. When delivering this presentation, the volunteers soon realised that women in the local community were quite unfamiliar with this topic. They took the opportunity to teach the women about the various warning signs to be aware of and how to self-examine.
The volunteers were also able to educate local women about other fundamental issues such as domestic violence, the impact of child marriage and the laws that can protect them as women. They were able to pass on helpful contact information for the women to use if they require help or advice in the future.
Younger generations of the community also benefitted. Teenagers were made aware of the negative effects of drugs and alcohol as well as being taught about gender and caste discrimination. Younger children were taught basic first aid skills at school by a local doctor, which will be especially important for them to know in later life. Taking part in these sessions also gave the younger members of the community the opportunity to practice their English and develop new vocabulary.
These sessions were successful in making the rural community aware of global issues that can personally affect them in their day to day lives. This volunteering experience also allowed Jessica to get involved in a hands-on project and work closely with a team. She said: "I learnt a lot about the Nepali culture, and about their norms and way of life. From running the sessions in school and in community I've gained a huge variety of skills including organisation, planning, communication, resilience (when things don't initially go to plan) and adaptability."