Panathlon – the partnership changing disabled young people's lives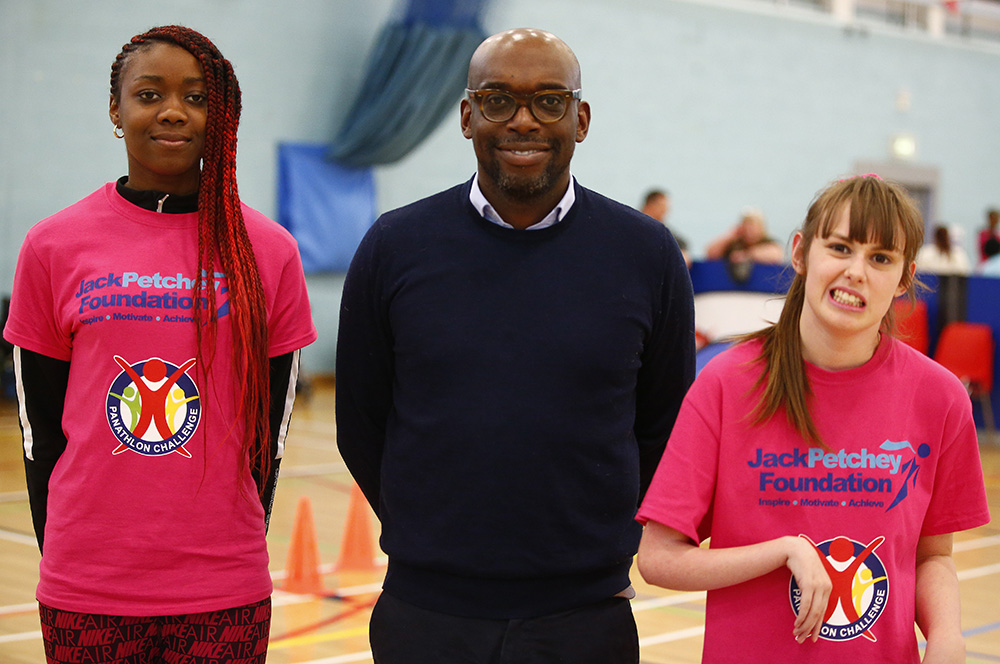 As part of our 21st birthday year, we will be sharing a series of stories about our partners on the 21st of each month. This one is about Panathlon.
It's no exaggeration to say that Panathlon has changed Georgie Hart's life.
Panathlon gives almost 22,000 young people with disabilities and special needs the opportunity to take part in competitive sport every year. The programme has had a profound effect on so many lives, not least that of East Londoner Georgie.
The 19-year-old won countless medals and accolades as a Panathlete, which gave her the confidence to achieve so much outside the sporting arena.  She is now helping the next generation of young disabled children fulfil their potential, by taking on the role of a Young Leader at Panathlon competitions.
Georgie's history with Panathlon is long and illustrious. With her team, Barking & Dagenham, she has been crowned London multi-sport champion three times. In 2015, Georgie won the prestigious Jack Petchey Outstanding Achievement Award – Panathlon's top individual honour in London and Essex. She has also won numerous medals in Panathlon's local and regional events.
Most impressive of all was how Georgie used the confidence she gained through Panathlon to rack up a dazzling array of achievements outside of the sporting arena.
She featured on BBC Sport Relief for starting her own anti-bullying campaign (after experiencing bullying herself at high school), does public speaking, stand-up comedy, participates in the Paralympic sport of club throwing, and volunteers for numerous organisations including an autism project at her old school – Jo Richardson Community School in Dagenham.
Georgie is on the committee of the International Day of Disabled People in Barking & Dagenham and helps organise events. She also volunteers for the Progress Project, helping younger disabled people participate in sport. She recently gave a speech in front of 5,000 people at London's O2 Arena.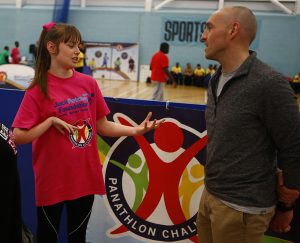 Georgie speaking at a recent Panathlon event
Georgie's mother, Susan Hart said: "Looking back to what she was like in junior school compared to now, the difference is just unbelievable – and that is all down to Panathlon,"
"All the confidence she's now got to do public speaking, stand-up comedy, volunteering and other sports she has channelled through sport, and by that I mean Panathlon. It has opened so many doors for her.
"At junior school, sport just wasn't happening for her. No-one wanted her. I remember her coming home and saying, 'I never want to do PE again!' She didn't even want to do the egg and spoon race on sports day. She didn't fit in.
"It was when she got to senior school that we heard about Panathlon. It changed Georgie's entire direction in life, there's no doubt about that."
Now, having left Jo Richardson Community School, Georgie is at college studying drama. She is already on course for her fourth distinction of the year.
Georgie helped to raise £22,000 for Dream Flights, a charity that takes children with serious illnesses or disabilities on holiday, without their parents, to Orlando. She now wants to expand on her Young Leader role by raising money for Panathlon, potentially through a sponsored bike ride. "I have to rein her back in quite a lot!" admits her mum.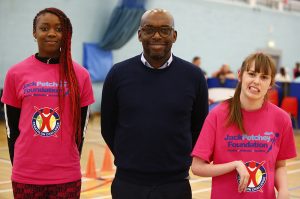 Left to right: Mercedes (the most recent winner of Panathlon's Jack Petchey Outstanding Achievement Award), Steven (staff at the Jack Petchey Foundation) and Georgie 
At the time of writing, Georgie has been a Young Leader at two Panathlon competitions, most recently at the East London Final at the University of East London's SportsDock arena.
There, she said: "It's so enjoyable, I just love giving back. This is so rewarding and all the other Young Leaders have been so supportive. They've treated me as their equal."
Her mum Susan added: "Panathlon is a level playing field for everybody and gives these children priceless opportunities they just wouldn't get otherwise. I can't thank them enough, or Jack Petchey whose money makes all this possible. The impact it's had on our lives is indescribable."
Interested in getting involved with Panathlon? Take a look at their page here.