How First Give enables young people to make a positive difference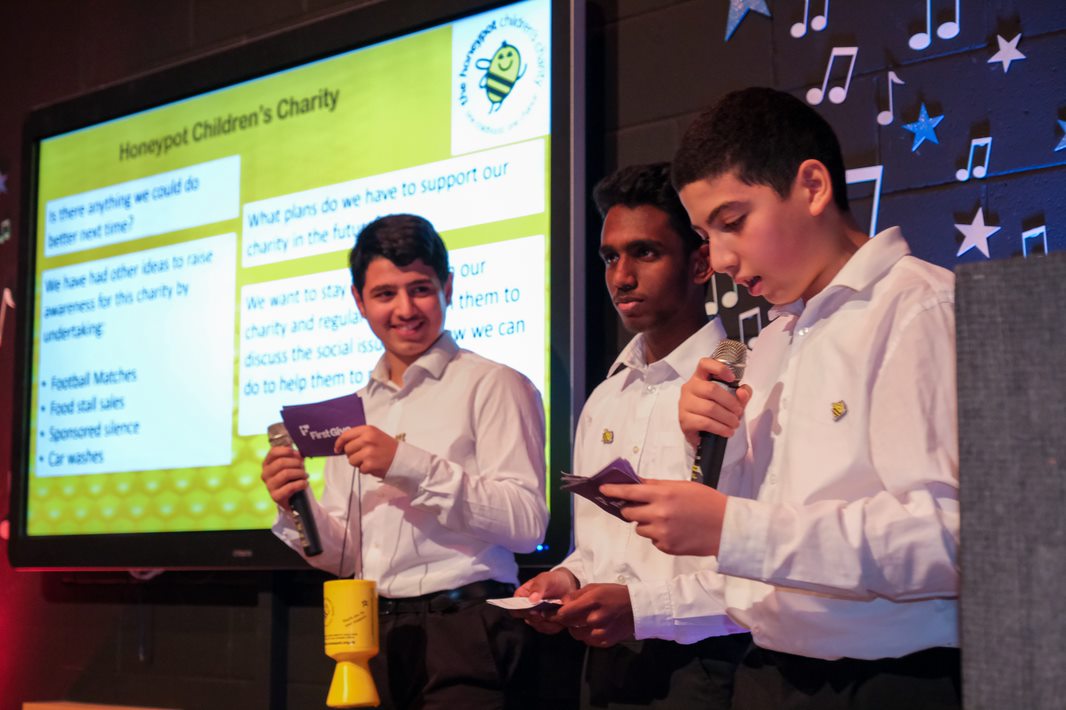 First Give exists to inspire and enable young people to make a positive difference to the causes they care about. The charity works with secondary schools to deliver a curriculum based, fully resourced programme that engages an entire year group in social action in support of local charities.
The charity began in 2014 and has worked in partnership with Jack Petchey Foundation since 2015 to deliver the programme in 100 secondary schools  every year – which means that around 1,800 young people benefit yearly from the experience.
A key part of the programme is its celebratory School Finals: these events take place in each school and are the culmination of months of hard work by the participating year group. Teams of students, representing their class, deliver presentations about their social action projects and their chosen charities to an audience and panel of judges. The class who are considered to have scored the highest win £1,000 for their charity.

Students at Ark Acton Academy participating in First Give
First Give at Ark Acton Academy
One such event took part at Ark Acton Academy in West London, one of the schools the Jack Petchey Foundation support to participate on the First Give programme. The First Give Final at Ark Acton Academy has always been an exciting event in the school calendar. It is an opportunity for students to speak out about the causes that matter to them, and a celebration of what these students have done to make the lives of others in their community better.
On Friday 1st November, the sports hall was turned into a marketplace for each form group to promote and raise money for their charity in a social action fair. The rest of the school were invited in to hear about the causes Year 9 were focusing on and help raise funds for the charities being represented.
On top of this social action fair, students across the year group planned and completed individual social action projects. For example, a Sponsored Silence to raise funds for Victim Support. The student who did this chose to do this to raise awareness of the fact that victims of crime often feel unable to talk about their experience.
The winning class, who were representing local charity Acton Homeless Concern also organised a collection of warm clothes and other donations for the charity's homeless shelter. One student from this class reflected that "My favourite part of doing First Give was the Final. This was where it all came together and we got to share how we as a form class helped our charity"
The event at Ark Acton Academy was incredibly well attended, with teachers, students and of course very proud parents making up the excitable audience. We were also delighted to be joined by a distinguished judging panel. Mr Knight (Headteacher) was joined by student representatives; the local Metropolitan Safer Schools Officer; and a very special guest – Councillor Munir Ahmed, Deputy Mayor of Ealing.
Nickael Briggs, the Lead teacher at Ark Acton Academy reflected on the importance of the Final event celebrating what students had done on the programme: "Social action is really important and often young people don't feel that there's any point to them doing anything, and there isn't any recognition. So I think where this project allowed them to get in contact with their charities and to campaign on behalf of them, I think that should be recognised, and we should celebrate young people when they are turning their energy into something positive like this."
Wishing you could get involved with First Give over the lockdown? Well now you can, right from the comfort of your own home.
First Give have developed a new remote programme in partnership with the Jack Petchey Foundation, Helping from Home, designed to help students think about social issues in your local area and to do something to address these issues and causes. There are three one hour sessions you can take part in, and a monthly prize draw where you could win £200 for the charity of your choice.
Interested in the work of First Give? Check out how they enable 1800 young people to make a positive difference every year.