Speakers Trust will deliver vital communications training to over 20,000 young people this year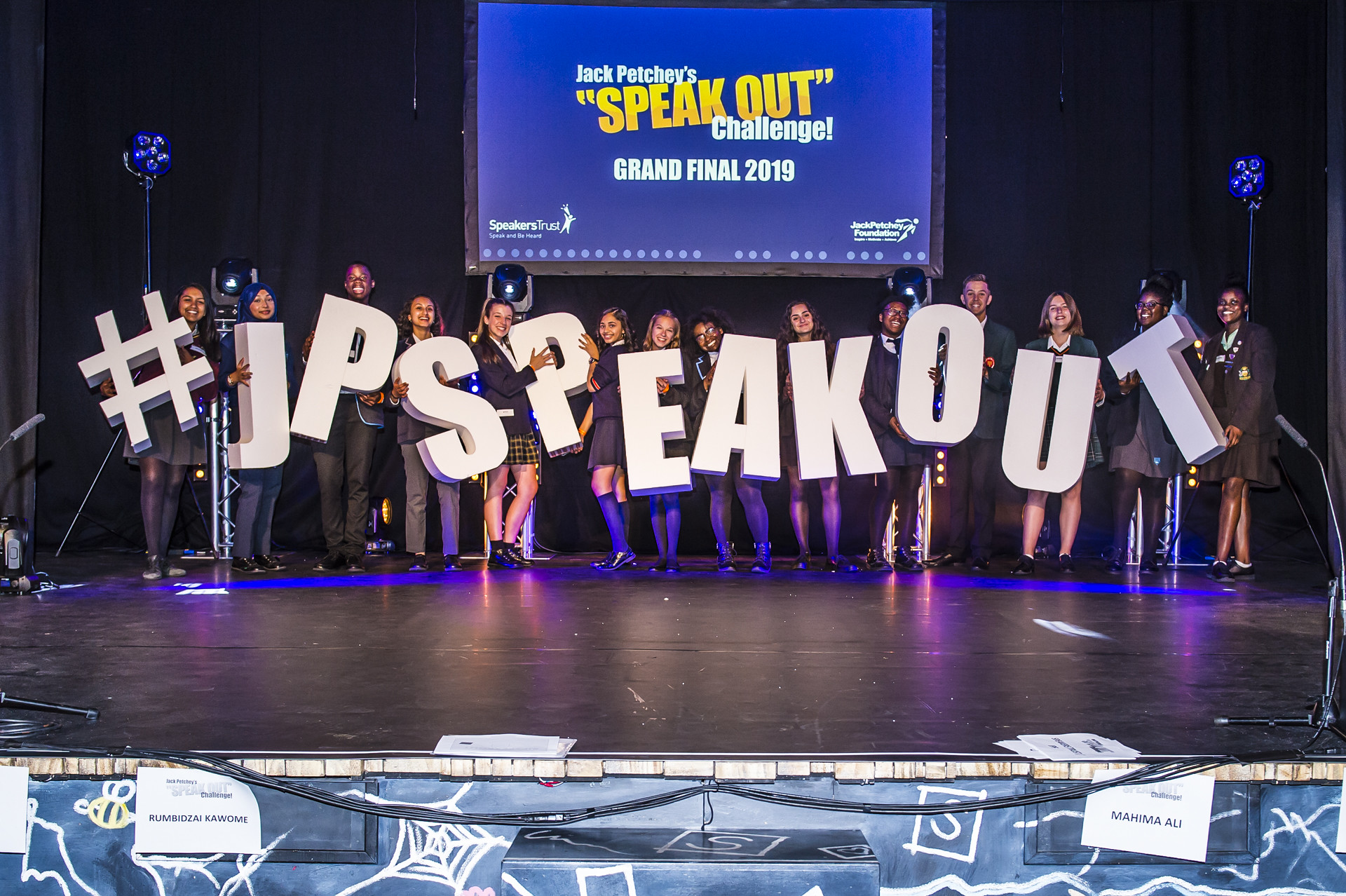 This is another article in our series of stories focused on our fantastic partners, which will be published on the 21st of each month to celebrate our 21st birthday this year. This one is about Speakers Trust.
In September 2019, Jack Petchey's "Speak Out" Challenge! training workshops began in state secondary schools throughout London and Essex. Over the course of the academic year, they will deliver vital communication skills training to over 20,000 young people in over 500 schools.
Last month, Jack Petchey's "Speak Out" Challenge! Regional Finals began, as the charity embarked on what they believe will be another incredible year of inter-school competition. The charity will host 37 Regional Finals, where students compete for the chance to be one of 15 speakers selected to participate in the Grand Final at the West End's Cambridge Theatre in July. Regional Finals have already taken place across five boroughs in London, showcasing original speeches by young people that highlight their unique perspective and passion for a subject of their choice.
They said: "A Regional Final is an opportunity for everyone in the community to come together to celebrate and build a platform for young voices."
Kensington, Chelsea and Westminster champion, Kelvin Lotsu, used his speech to advocate embracing our aesthetic variety, self-belief and our own potential.
Jerry Ndi from Ealing created a speech called 'Power of the Voice'. In his speech he shared a plea with his classmates and beyond to realise the impact, for better or worse, that their voice can have on others. He urges us to embrace the varying qualities of the voice, including the words we utilise. Listen to his voice here.
Jess Bailey Ryan from Haringey shared her challenging lived experience of foster care and the meaning of family. "Family isn't defined by a last name," she says, "don't let your past be a barrier, let it be your platform".
Islington's champion, Nogaye Fall represented Highbury Fields School and educated us on all things climate change, adding to the growing number of young people who have spoken out about their concern for our planet. Hear her take on human displacement.
Talking on the Jack Petchey Foundation, the charity said: "Speakers Trust has been working with Jack Petchey Foundation for 15 years and this relationship has been key to our growth and the impact we make as a charity. Beyond their financial support, the Foundation have helped us build relationships with one in five secondary schools in the country and develop our programme to ensure that young people's voices are heard and that we can measure and improve the impact we have year on year. They have also introduced us to their other partners. For example, we recently teamed up with Media Trust's Vlogstar Challenge to create a vlog performance of "Speak Out" Challenge! Grand Champion Princilla Agyemang's speech. The experience involved Princilla starring in her own story-boarded vlog, delivering her winning speech with a backdrop of some of London's most iconic locations."
Statistically, too many young people lack the confidence, skills and opportunity to share their ideas. More than 40% of the young people we meet say they don't have the confidence to speak in front of a group of peers. Speakers Trust want to change this. They said: "Our mission is to amplify young people's voices by building confidence, developing skills and creating physical and digital platforms for young people to share their ideas. Communication skills are vital for young people to fulfil their potential at school and at work. Our training empowers them to have the confidence and ability to influence social change. Through our flagship programme, Jack Petchey's "Speak Out" Challenge! we are able to reach more than 20,000 young people each academic year, with the total number of students trained growing year on year. That's 20,000 opportunities to make a difference to young people's lives."
Are you interested in reading another one of our partner case studies? Click here.