I competed in the Glee Club Challenge and now I'm performing on the West End!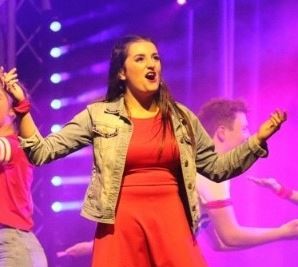 Hello! My name is Daisy Greenwood, I'm 17 and I'm from a little village in Essex (don't worry I'm nothing like any of the girls you may have seen on TOWIE, in my village we make jam not fake tan!). So, recently I won a competition set up by Lambert Jackson Productions, they were looking for a newcomer in the Musical Theatre industry to take part in a show called 'There Is Nothin' Like A Dame'. It is a one-night show at the Cadogan Hall featuring some of the most talented women in the West End, and thanks to this competition I have the opportunity to perform alongside them!
I have always loved going to the theatre ever since I was tiny. My Mum worked in theatre her whole life performing, writing producing, directing…you name it, she's probably done it (she is a very very talented lady!) Due to this I was lucky enough to always be in a theatre environment from a very young age and the magic just completely won me over and that's when I caught the 'bug'.
I signed up to take part in the Jack Petchey Glee Club Challenge in 2017 through my weekend performing arts school Tomorrow's Talent, who are based in Chelmsford. As soon as I heard we were going to audition for this amazing competition I knew I wanted to be a part of it. I absolutely adored the Glee Club Challenge from start to finish! The whole experience was so exciting.
It began with us sending in a video from the rehearsal room as our initial audition and then from there we found out we had been accepted onto the challenge and began to work on our two numbers. We had a group of 30, 15 boys and 15 girls with an age range from about 12 all the way up to 18. All students from within Tomorrows Talent. Our two pieces were 'Something Inside So Strong' (with British Sign Language alongside the vocals) and a medley of songs from the hit musical 'Hamilton'.
The next stage in the competition was Boot Camp. This gave us the opportunity to work with professionals to improve our pieces before taking them to the regional finals! It was brilliant to get constructive criticism and encouragement and praise from people we both respected and admired.
Next was the regional final, this was the step before reaching the final, so as you can imagine the buzz backstage was crazy! We all performed our 2 chosen pieces and then everyone took part in a big finale, after which they announced who had made it through to the finals. When they called our name it was just amazing! Everyone was just beaming and there was so much love on the stage. After our moment of glory, it was then that the hard work began again. We all knew that we had to work and work and work to stand a change at the grand final (held at the incredible indigo O2). After lots of hours in the rehearsal room, the day finally came where all the work became so worth it, as we performed in the grand final. We were honoured to have walked away from the final with the 'Artistic Award', what a brilliant achievement.
For me a stand out moment in the challenge was when it got announced that we had made it through to the Grand Final. The whole group was just so uplifted, everyone's confidence went up and the togetherness of the group just felt tighter. It was that pure passion and togetherness that really made it for me.
The challenge taught me so much, but I think the main lesson that I got from it was to always support others. The level of support within the Challenge was incredible and that feeling when we performed in front of the other participants of the challenge was how it should be. Performers supporting other performers, boosting each other up not pushing each other down.
Since the challenge I have been involved with productions and showcases wherever I can! I am a member of MX Masterclass in the West End and through them I've had some amazing opportunities such as performing in West End Live, Christmas with the Stars at the Actors Church and at the London Palladium with Collabro! The Glee Club Challenge was so helpful to me within my further training in musical theatre as it gave me the confidence I needed to be able to do larger productions in front of larger audiences and in a more professional manner.
Winning this competition is one of the biggest (if not the biggest) thing to happen in my career so far. I feel so beyond privileged to be given the chance to perform alongside Louise Dearman, Rachel Tucker, Ria Jones and Alexia Khadine. These are women who I have looked up to for so long and they now know who I am, which is a crazy thought! The show is on the 30th August and celebrates 100 years of women in musical theatre. It's such an inspiring thing for newcomers like me to know that all these women over the past 100 years were once like me and had the same dreams and aspirations.
The Glee Club Challenge was such a good experience I would honestly encourage everyone that has an interest in performing to do it! It's a chance for you to get to do something you love in a fun, safe, friendly environment full of like-minded people. I would do the challenge a million times over! You get the chance to work with industry professionals, gain skills and knowledge but also spend time with your friends doing something you love!