Shaping Our Future: Finding your place in an ever-changing world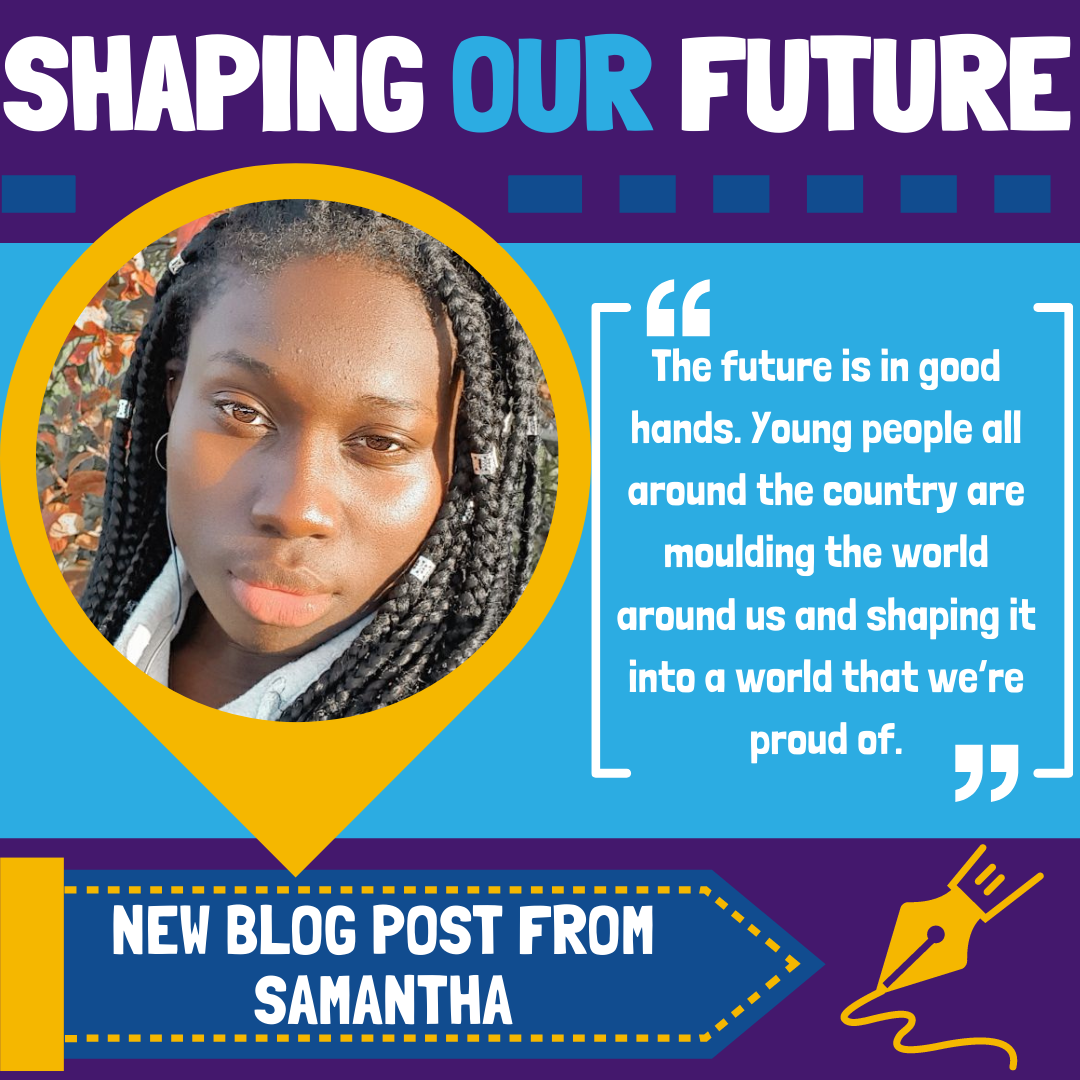 We recently published our Shaping Our Future: The Jack Petchey COVID-19 Youth Survey report which explored young people's experience of the lockdown and what they wanted to see in the future. We asked YOU to write to us about what you thought of the report.
Former Jack Petchey Speak Out Challenge competitor and Achievement Award winner Samantha wrote to us about wellbeing and the importance of youth voice in politics.
Future. It's a word that holds an uncertain weight due to its limitless possibilities. What can young people make of our future?
Hello! My name is Samantha Bampoe-Parry and I'm twenty years old from Southgate, North London. I first began my journey with the Jack Petchey Foundation in November 2015 when I participated in the Jack Petchey Speak Out Challenge. I gave a speech on the importance of LGBTQ+ rights, following the legalisation of same-sex marriages in England. Later on, in the school year, I won the Jack Petchey Achievement Award! I was nominated again in January when I won for the second time!
The Jack Petchey Foundation ran a survey over the summer called Shaping Our Future which asked young people what they thought about the lockdown. In response to the survey, I want to write about how to support the great work young people do for their communities there needs to be more mental health support available to young people.
In the Jack Petchey Foundation's survey, 19% of young people felt that there needs to be more support to help young people stay engaged with the world around them. In the era of social media, it can be hard to find yourself in world that feels like it is moving at a million miles per hour! 2020 was also a year where I felt that youth voice was heard louder than ever. Whether it be participating in protests, supporting grassroots organisations, or spreading awareness about the ongoing issues in our world; the voices of young people are being heard.
Besides scientists, nobody could've predicted the impact the pandemic would've had on our world. For a lot of people, myself included, this year began rather optimistically. However, from March up until now, the pandemic changed my world as I knew it.
After experiencing various hardships this year, I decided to take a simpler approach towards improving my mental health. Every evening I'd walk around my local area and capture the beauty of nature around me. My phone gallery is currently FILLED with photos of the sunsets I managed to snap photos of! I discovered places in London that been to before such as Hill Garden in Hampstead, Regent's park, Primrose Hill, Alexandra Palace Park and Kyoto garden!
The most important thing I have learnt this year is that happiness can be found in the small things. If I were to take this learning and expand it to youth work in general, I would suggest that schools offer peer mentoring for younger students so that they get advice from people who've been in their position. More funding needs to go into mental health services so that young people aren't left on waiting lists for months on end. Now more than ever, it is important for everyone to take care of themselves both physically and mentally wherever we can. Right now, I'm currently the healthiest I've been in a long time and I can only hope that others have similar stories to me!
Our generation is becoming known for how we can utilise our platforms both online and offline to protest and spread awareness about the topics that we care about. That was evident this summer when young people from around the country participated in protests about racism and police brutality. Seeing people take to the streets regardless of their background highlighted that in the face of adversity, young people are united as one. This unity was seen again when A-Level students were to be assigned their grades by an algorithm in August, students made sure their voices were heard regarding the effects of this.
In the Jack Petchey COVID-19 Youth Survey, 10% of young people felt that there needed to be more youth voice in politics. I wholeheartedly agree as the youth voice is an important one. Policies and decisions made also directly impact young people.
From 2017 to 2019 I was member of my local borough's youth parliament. I was able to deliver my viewpoints on the policies that were to be implemented by our council, the local police, and other leaders within my community. I would encourage young people to participate in these programmes as it was such an enriching time where I was able to be a direct catalyst towards change!
What will the future be like? That I can't tell you. However, if there's one thing I'm sure of, it's that the future is in good hands. Young people all around the country are moulding the world around us and shaping it into a world that we're proud of.
Are you interested in writing an opinion piece on our report? Read the report today here and email pr@jackpetchey.org.uk to find out more. We can't wait to hear from you!