Today's Role Models: Achievement Award winner to Legal Professional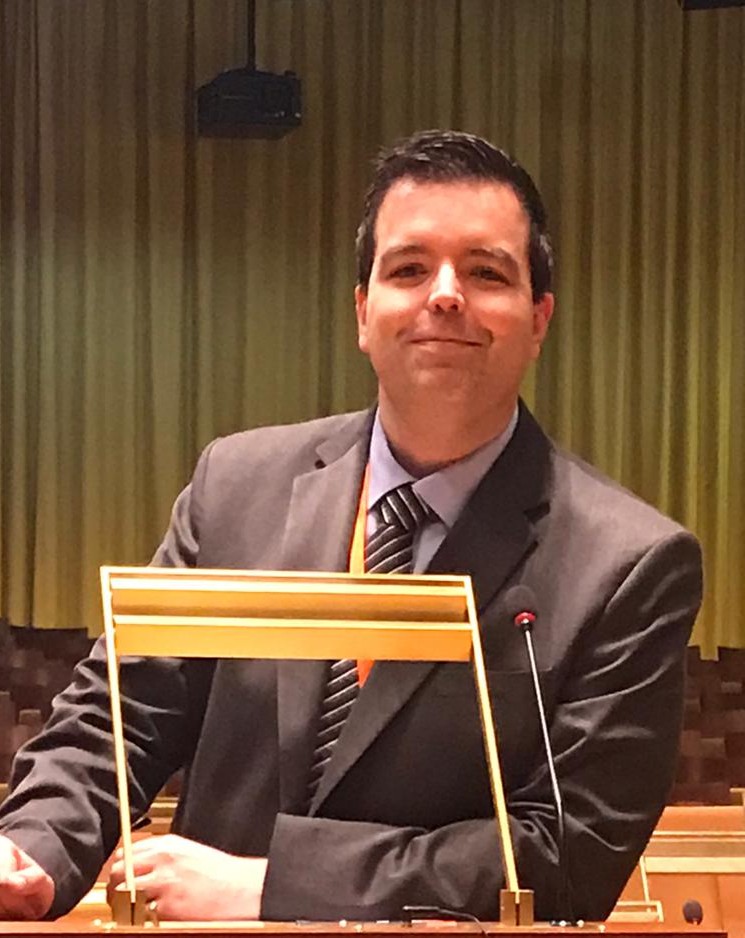 As part of our 21st birthday this year, we will be getting back in touch with Jack Petchey Achievement Awards alumni, who won an award at least five years ago. We want to see what they have achieved since we last spoke (and believe us, it's a lot!) to be role models to the young people of today.
This 'Today's Role Models' feature is about Stephen Clear who received an Achievement Award in the early 2000s. He is now a Senior Tutor and Lecturer in Constitutional and Administrative Law at Bangor Law School, after attending university there and never looking back…
How old were you when you got your Jack Petchey Foundation Achievement Award and what were you nominated for?
I was 15 when I received my first Jack Petchey Achievement Award at the Ockendon School, now Harris Academy Ockendon. I was nominated for my service to the Student Council and my work as Head Boy. I then received my second Jack Petchey Achievement Award at the age of 17 for my work on the Student Executive Team at Palmer's College (now USP College). 
How did winning the award make you feel?
I am proud of my Jack Petchey Achievement Awards. The prizes gave me a sense of belonging to a community of achievers with high aspirations. I had the great pleasure of meeting Sir Jack at my awards evening and finding out more about his story (I still have the signed copy of his biography on my bookshelf). He taught me that only you know your true potential, and that anything is possible if you work hard enough at it (and have a bit of luck along the way). Sir Jack's selflessness and willingness to give back also taught me the value of keeping the cycle of help and support for others going. Because of what Jack taught me, I regularly return to Essex and London to deliver talks and guest lectures at schools and sixth form colleges pertaining to careers in law (such as how to become a barrister or solicitor), as well as talks about what it is like to study at university. I also now annually sponsor a law award prize at the USP Palmers Annual Prize Giving, and was honoured to be their guest speaker and award prizes at their event in Grays in 2014. Despite residing on the other side of the country now, I enjoy coming back and meeting young people who are starting out on their journeys and pursuing their career aspirations.
Tell us a bit about what you're doing now.
I am now a Senior Tutor and Lecturer in Constitutional and Administrative Law at Bangor Law School, Bangor University, in North Wales. I have the pleasure of teaching both undergraduate and postgraduate level students the law (mostly in areas concerning the work of Parliaments (both in London and Cardiff), government, and the powers of the judiciary via means of judicial review). In my research roles I have provided written and oral consultation responses for both the House of Commons and House of Lords, as well as the UK and Welsh Governments' offices. 
Most recently my work involved Brexit on legal education (which included interviewing and sampling the views of young aspiring solicitors and barristers in Wales) and was shared with members of Parliament's Select Committee on Exiting the European Union, as well as the UK Government's Department for Business, Energy and Industrial Strategy. 
The job can be varied from having radio interviews for LBC and Russian news pertaining to Brexit and human rights; to discussing new ideas for teaching; through to organising international conferences with oversea delegations. I thoroughly enjoy how no two days are the same.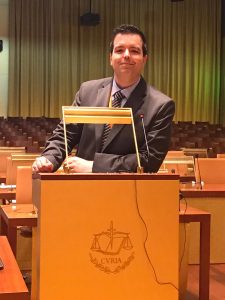 Stephen now
What made you want to get into law?
In my final year of studying at the Ockendon School, I completed a work experience placement at Lincoln's Inn, Chancery Lane London, with a Barrister's Chambers for a couple of months. I spent my time there shadowing barristers and working with the Chambers' clerks. This gave me my first taste of what it was like to work in the law. In accompanying barristers to the Royal Courts of Justice, I knew that I wanted a career in law, and thought, at the time, that I definitely wanted to be a City barrister. At Palmer's College I completed further work experience placements marshalling in local courthouses and shadowing judges. I applied to go to university in North Wales to study on a new and exciting LLB Law programme that Bangor was offering (which had much smaller classes than many of the other bigger universities I visited on Open Days). I did so with the intention of returning to London in three years to complete the Bar course.
The community feel, and the beauty of North Wales (with Snowdon, mountains and sea on our doorstep) meant I never left. During this time I also found a passion for research and completed a Masters degree in law, and then started publishing and teaching. My interest in all things public law (constitutional law) took my life in a different direction to that which I had thought it was going in. I secured employment within the university, and with the help of my fantastic support network, friends and family, I have been able to build a career and life in this top corner of Wales. 
What's the biggest challenge you've overcome?
Managing stress is a personal challenge I have had to deal with. I found that the anxiety I used to feel about exams and completing coursework is something that has always been there for me personally (it just gets replaced by a different commitment or responsibility). Learning to manage those feelings and expectations you have of yourself is important, whilst remembering to have fun, and ask for help when you need it. 
What's the best advice you could give to a young person today?
Work achievements are great, but don't lose sight of the importance of enjoying what you are doing. Remember that you work to live, you do not live to work. Whilst it is tempting to look through a career guide and be tempted by those opportunities that pay the most, money is not everything. Finding something that you truly enjoy doing, and find rewarding, is far more important. Only you can create your own happiness. 
 What do you think the biggest challenge young people face today is?
Stress and anxiety surrounding expectations that others have of them, and that they have of themselves. Be prepared for life plans to change and evolve as you do too, and don't be too hard on yourself. 
 What's your biggest achievement?
A tough one – I would say my biggest achievement is yet to be realised!
If you'd like to read another one of our alumni stories, click here.
Did you win an Achievement Award in 2015 or before? Get in touch! Email efox@petchey.co.uk or message us on Facebook, Twitter, or Instagram.