Today's Role Models: Achievement Award winner to Youth Club CEO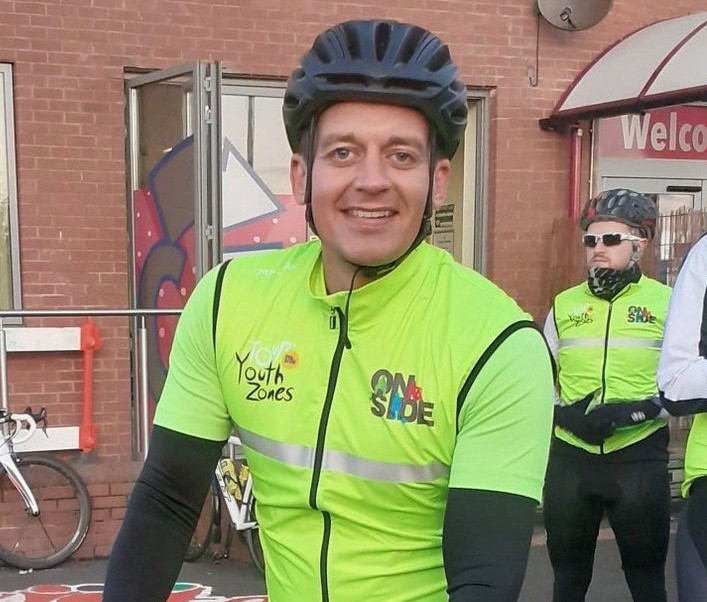 As part of our 21st birthday this year, we will be getting back in touch with Jack Petchey Achievement Awards alumni, who won an award at least five years ago. We want to see what they have achieved since we last spoke (and believe us, it's a lot!) to be role models to the young people of today.
This 'Today's Role Models' feature is about Gavin Evans who received an Achievement Award before the 2000s when the Foundation was just starting out! He is now the CEO of Future Youth Zone, a youth club in Dagenham.
When did you get your award and what were you nominated for?
When I was 14 I took part in a 100 mile canoe challenge with other young people from my Youth Club. It was on the River Wye and took place over four days. The challenge was a national event that was attended by young people from all over the UK. I had only canoed once or twice before and was still learning how to move in a straight line when we set off on the first day. I think I must have canoed a few extra miles than I needed to as I was zig-zagging my way down the river but managed to get to the finish even after a swan attack and a few soakings!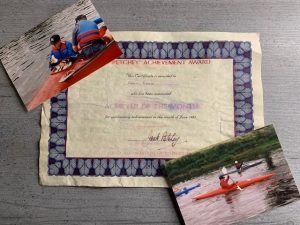 Gavin's Jack Petchey Achievement Award certificate and photos from his canoeing challenge that he was nominated for
How did winning the award make you feel?
I remember feeling really flattered that someone had taken the time to put me forward for the award. I loved being able to decide how the money would be spent to benefit the Youth Club and I'm pretty sure we used it to buy a new table tennis table as the old one was literally on its last leg!
Tell us a bit about what you're doing now.
I'm the CEO at Barking and Dagenham Youth Zone which is part of the OnSide Youth Zone network. We provide young people with somewhere to go, something to do and someone to talk to. Our Youth Zone is open seven days a week, 52 weeks a year for young people aged 8-19 (up to 25 with additional needs). Young people pay a £5 annual membership and then just 50p a visit and can access over 20 activities a night from climbing to cooking, and boxing to beat-boxing, or fine art to nail art.
Barking and Dagenham Youth Zone has over 7000 members and around 1500 visits every week. I'm really proud that the Jack Petchey Foundation are one of our capital funders and help us to provide young people in East London with a great place to go. I love that we are part of the Achievement Award Scheme and young people are benefiting from becoming Jack Petchey Achievement Award winners just like I did.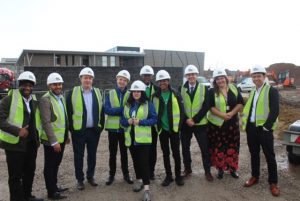 Gavin, young people and team members who all played a huge part in creating a Youth Zone in Barking and Dagenham
What's the biggest challenge you've overcome?
Going to university is something that I'm really proud of and at the time seemed like a huge challenge. I went to university in Sheffield and I remember how incredibly lonely it felt after being dropped off by my mum at my student accommodation. I was in a city that I'd never been to before with no friends or family around me and I was worried I had made the wrong decision.
I knew to make it work I just had to throw myself into it, meet new people and get out of my comfort zone, so that's what I did. I ended up making some great friends and loved my three years in Sheffield! I'm really pleased I took that step outside of my comfort zone and I think that the experience has helped me to realise the value of grabbing opportunities when they come along!
What made you want to get into youth services?
I attended my local youth club when I was in my teens and it provided somewhere for me to go outside of school, and gave me opportunities to try new things. Simon was the Youth Club leader and he was a huge support for me and other young people who went to the club. He helped us to fulfil our potential and I'm forever grateful for the time and guidance he offered me.
I'm passionate about the positive difference that Youth Clubs and Youth Services can make for young people. It's so important that we provide safe, affordable and inspiring places for young people to go to and give all young people an opportunity to succeed.
What's it like being a CEO? Give us a day-in-the-life.
I have the best job in the world! Every day is different, everyday has its challenges and every day I learn a huge amount. I'm privileged to work alongside a really committed group of staff and volunteers who are passionate about having a positive impact on the lives of young people.
It's difficult to give a typical 'day in the life' because every day is so different and the role is so varied. Finding a consistent routine or working pattern isn't really possible and is something I've learned to embrace and enjoy. One thing that I do try to be consistent about is that I like to talk to young people who use the Youth Zone as often as I can. It helps me to understand what we're doing well and what we can improve on and they are the inspiration and motivation for me to continue to try to be the best I can be.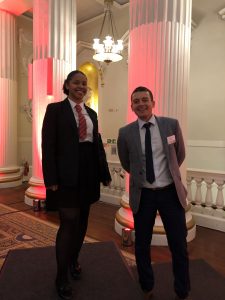 Gavin and Logann, a young person from Barking and Dagenham, getting ready to speak at an event in November
What's the best advice you would give to a young person today.
It is much easier to be you than it is to be anyone else.
Was there anyone you found particularly inspiring at 21?
I've been really lucky to have lots of people around me who have inspired me at various points in my life. At 21 I was at university and my mum had three jobs and worked seven days a week to ensure that myself and my brother were able to study. That is definitely inspirational!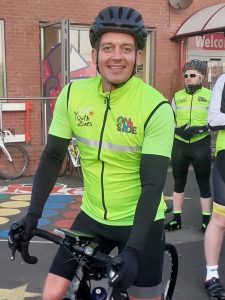 Gavin on a bike ride fundraising for the Youth Zone
It's safe to say you've achieved a lot already, but do you have any future goals?
My main goal will always be to put young people first, just like other people did for me!
Did you win an Achievement Award in 2015 or before? Get in touch! Email efox@petchey.co.uk or message us on Facebook, Twitter, or Instagram.
Want to read another Today's Role Models Q&A? Take a look here.